Tuesday, May 4, 2010
Putting The Adventure Back In Aviation
Top airplanes, gear and schools for a different kind of flying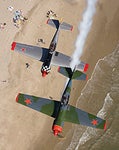 Yak 50s
Yaks
Many cool round-motored toys come from the Yakovlev Design Bureau—notably, the Yak 52 two-place aerobatic trainer and the hell-for-stout Yak 50 and 55 single-place competition aerobatic machines. The four-place Yak 18T also is capable of serious aerobatics. And they all use that wonderful Vedeneyev M-14P motor!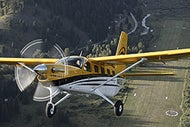 Quest Kodiak
Quest Kodiak
This unique aircraft was designed for humanitarian missions, serving missionaries in the world's backwaters. Quite a few have been delivered, and their ability to carry heavy loads into short, rough strips has served them well. Capable of carrying 3,100 pounds (including 4x8-foot sheets of plywood), the Kodiak isn't a small aircraft, but its 750 hp PT6 gives it the power it needs. Price: $1,450,000. Contact:
www.questaircraft.com
.

QUEST KODIAK
MAF was blessed to be able to fly the new Kodiak into the very heart of the Haitian catastrophe," said MAF President John Boyd. "This is the Kodiak's kind of war. It's a war on suffering and a fight for the needy.

Safety & Survival
Before you fly in or over any wilderness area, be sure that you can be found if something goes wrong. These basic products should be onboard every aircraft flying into the backcountry.



LOCATORS


121.5 is no longer going to be monitored, but new technology gives pilots the ability to be found while allowing them to communicate their situation. Recent developments include 406 ELTs, as well as personal locator beacons (PLBs) and the Spot Satellite GPS Messenger, both of which make it possible for a pilot's plight to be broadcast as soon as trouble strikes.



Cobham Avionics: The Cobham family of 406 ELTs includes units that can be retrofitted to existing wiring as well as stand-alone units requiring little in the way of installation wiring. Visit www.cobham.com/avionics.

ACR Electronics: The SARlink PLB is a handheld "smart ELT" that puts your GPS-defined location in the SAR system and allows you to send messages with your location (within 100 meters). A strobe beacon is included. Visit www.acrelectronics.com.



Emerging Lifesaving Technologies: This company's 406 ELT with GPS shortens the time it takes for an accident to get on the search net. Location accuracy is as small as ±300 feet. Visit www.elt406.net.

Spot: The Spot Satellite GPS Messenger lets others know exactly where you are at all times. It allows instant messaging via satellite in case of an on-the-road emergency. Visit www.findmespot.com.



SIGNAL PANELS


Signal panels can be placed near the aircraft and are highly visible from the air.

Sporty's: The Emergency Aerial Rescue Panel is a 10x20-foot, yellow signal panel that you stake near the aircraft. Visit www.sportys.com.



HANDHELD RECEIVERS
The ability to communicate can make a difference during SAR operations. The following are two transceivers that we recommend.



Icom America: The popular Icom A6 handheld NAV/COM serves as a backup for communication and VOR navigation while flying. In an emergency, it makes ground-to-air communication a near certainty. Visit www.icomamerica.com.

Vertex Standard: The professional-grade VXA-300 Pilot III transceiver provides high-powered transmit and receive capabilities. It incorporates a CDI into its brightly lit VOR navigation feature. Visit www.vertexstandard.com.



RAFTS
There's always adventure to be found over large bodies of water; similarly, there are always risks involved in overwater flight. These companies
let you plan for that possibility with survival rafts.




Sporty's Emergency Aerial Rescue Panel

Eastern Aero Marine: Some of the four- to 12-man rafts from EAM have self-erecting canopies. The T4S is a single-tube raft that carries four to six people. It packs into a 21x15x7-inch pouch that weighs 37 pounds. Visit www.theraft.com.

Survival Products Inc.: SPI's series of small life rafts hold from two to 12 people. The company's most popular raft is its 21-pound 4-Man Deluxe Kit. Visit www.survivalproductsinc.com.
Page 4 of 5