Tuesday, May 4, 2010
Putting The Adventure Back In Aviation
Top airplanes, gear and schools for a different kind of flying
Engine Conversions
These companies specialize in upgrading existing airframes to bigger engines, without doing any airframe mods. They have the STC worked out with the FAA, so the paperwork is minimal, as is the downtime. This is a guaranteed way of giving your airplane backcountry capabilities.



Air Plains Service


This Wellington, Kans., company converts Cessna 172s, 180s and 182s, and either provides kits or does the actual conversions to 180 hp in the 172, and 300 hp in the bigger aircraft. Visit www.airplains.com.



Texas Skyways


This family-run business in Boerne, Texas, has nearly 20 years of experience hanging big engines on Cessnas starting with the 182 and going through the 210. The company offers a 310 hp 182 mod. Visit www.txskyways.com.

Backcountry Training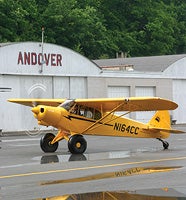 Several schools offer bush flying in bits and pieces, but the following have courses specifically aimed at developing well-rounded bush-piloting skills.



•

Above Alaska Aviation, Talkeetna, Alaska: www.abovealaska.com


•

Air-Hart Aviation, Kelowna, BC, Canada: www.air-hart.com


•

Andover Flight Academy, Andover, N.J.: www.andoverflight.com


•

Island Coastal Aviation, Vancouver, BC, Canada:www.islandcoastalaviation.com


•

McCall Mountain/Canyon Flying Seminars, McCall, Idaho:www.mountaincanyonflying.com

Page 5 of 5