Tuesday, December 25, 2012
Shopping In The Fast Lane
A turbine buyer's guide
There's good news this year. The market for turbine aircraft is slowly turning around, used inventories for many models are decreasing and some manufacturers are starting to cautiously ramp up production. So, it's a good time to be a buyer with many manufacturers offering tempting incentives to anyone willing to sign a purchase contract. Whether you're moving up from a piston or looking for a more capable airplane, there are a lot of possibilities to meet almost every need.
Fixed-Gear, Utility Class Singles
Fixed-gear single-engine turboprops are reliable load haulers that are favorites for air cargo and backcountry operations. If you need to operate on water or haul a load out to that dirt strip on the ranch, one of these models might just be the ticket.
Cessna Caravans
First delivered in 1985, the immensely successful Cessna Caravan series has racked up over 15 million fleet hours and an impressive safety record. It's a testament to the versatility of the design that the Caravan is now offered in four different configurations to address a wide range of missions. Three of those, the 675, Amphibian and the new Grand Caravan EX, are probably the most interesting to owner-pilots. All are three-screen G1000 equipped, have a fuel capacity of 335 gallons and direct operating cost around $464/hour. Contact:
www.cessna.com
.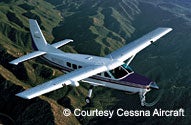 Cessna Caravan
Caravan 675.
This is the original model that seats eight to 14 and has a maximum cruise speed of 186 KTAS with a maximum range of 949 nm. Powered by a P&WC PT6A-114A 675 shp engine, it can carry 1,071 pounds of payload with full fuel. Typical price is $2.132 million.
Caravan Amphibian.
Basically an amphibian 675, there's seating for eight to 14, with extra cargo volume (in the floats) that can handle a total of 725 pounds of baggage. Maximum speed is 162 KTAS with a maximum range of 820 nm. Top the tanks, and the Amphibian can handle 561 pounds of payload. The typical price is $2.254 million.
Grand Caravan EX.
New this year, the Grand EX features an increase in power with a PT6A-140 that delivers 867 hp. With its stretched fuselage, this is the biggest Caravan of all, seating 10 to 14. At 10,000 feet, maximum speed is 194 KTAS with a range of 960 nm. Load it up with full fuel, and you can carry an impressive 2,038 pounds of payload. Typically equipped pricing is $2.436 million.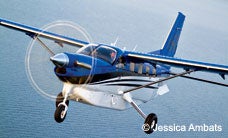 Quest Kodiak
Quest Kodiak
Designed to handle rough backcountry strips, the Kodiak is aimed squarely at the rugged utility turboprop market. Power is supplied by a P&WC PT6A-34 750 hp engine with a 4,000-hour TBO. The cabin can accommodate up to 10 seats or 248 cubic feet of cargo that can be loaded through the front cockpit doors or the large rear 49x49-inch cargo door. Fuel capacity is 320 gallons, which gives a maximum range of 1,132 nm (at 135 knots). Top speed is 183 KTAS. At full gross weight, the Kodiak can get airborne after only 934 feet of ground roll, and it touches down and stops within 705 feet without using reverse. Up front, a three-screen Garmin G1000 avionics package provides state-of-the art navigation capability. Options include XM weather, GWX onboard radar, Stormscope, a large cargo pod, amphibious floats and a couple of interior seating packages. New for 2013 are updated versions of the basic "Timberline" and more upscale "Tundra" interior options, along with a new "Summit" executive interior package with club seating and a drop-down table that will debut sometime mid-2013. Base price is $1.775 million, and typically equipped Kodiaks go for about $1.95 million. Contact:
www.questaircraft.com
.
Page 1 of 5