Tuesday, December 25, 2012
Shopping In The Fast Lane
A turbine buyer's guide
High-Speed SETP Cruisers
Single-engine retractable turboprops are fast, economical and have a good safety record. These are serious traveling machines with single-engine operating economics and performance that make them very popular with owner-pilots.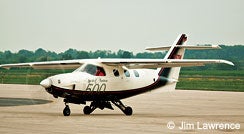 Extra 500
Extra 500
Designed by Walter Extra and built in Germany, the Extra 500 is a composite, six-place, pressurized, high-wing traveling machine with a slightly different take on turbine power. The design philosophy trades high speed and cruise altitude for turbine reliability combined with very low operating economics and long range. Powered by a 450 hp Allison/Rolls-Royce 250-B17F engine, the 500 is certified to a maximum altitude of FL 250. The engine has a critical altitude of 16,000 feet, which produces a top speed of 226 KTAS while drinking only 21 gph. Fill the tanks with 172 gallons of Jet A (max useable), cruise at max range power, and the 500 will cover 1,600 nm, though it will take about seven hours to do it. Up front, the panel is outfitted with a two-screen Avidyne Entegra R9 avionics package coupled to an S-Tek 55X autopilot. In back, there's club-style seating for four in a bright and spacious European-styled cabin. Full fuel payload is 357 pounds. The current base price is $1.795 million. Contact:
www.extraaircraft.com
.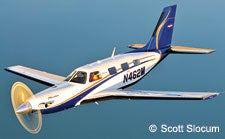 Piper Meridian
Piper Meridian
The 2013 Piper Meridian features a new exterior paint scheme, four new standard interior colors and a three-screen G1000 avionics suite with synthetic vision. As an entry-level turboprop, the Meridian combines low acquisition and operating costs with impressive performance. The six-place cabin features leather seats and ample space behind the rear seats for baggage. Fill the tanks with 170 gallons of Jet A, take on 559 pounds of payload, and you'll cover 1,000 nm with a 45-minute reserve. The maximum certified altitude of FL 300 makes it easy to top most weather. Cruising in the mid-20s, the Meridian achieves a top speed of 260 KTAS. The Meridian can clear a 50-foot obstacle to get in and out of a 2,438-foot field. Garmin GWX 68 onboard weather radar, GFC 700 autopilot and deice boots are standard. Options include data-link weather, TAWS and traffic warning systems. The 2013 base price is $2.176 million and, typically, equipped prices run $2.3 million. Contact:
www.piper.com
and
www.mmopa.org
.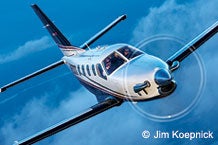 TBM 850
Socata-Daher TBM 850 Elite
The new TBM 850 Elite adds even more cabin flexibility to last year's TBM 850 model. By turning the middle row of rear-facing seats around to face forward, the normal six-place cabin can be converted to a four-place aircraft with a very large baggage area in the rear cabin. This configuration creates room for an impressive 507 pounds of cargo in the designated baggage areas. An optional pilot door and the standard large rear cargo door makes loading easy. Top the tanks with full fuel (291 gallons useable), load 931 pounds of people and baggage, and you'll cover 1410 nm at max cruise. Climb to the certified ceiling of FL 310, slow to 252 KTAS and you'll cover an impressive 1,585 nm (with a 45-minute reserve) between fill- ups. Maximum speed at FL 260 is a jet-like 320 KTAS, and yet the TBM 850 can still comfortably operate out of runways as short as 2,840 feet (with a 50-foot obstacle.) Standard avionics include the three-screen Garmin G1000 with GFC 700 autopilot, Garmin GTS 820 traffic warning system, Garmin TAWS , on-board GWX 68 weather radar and XM data weather link. The TBM fleet is over 600 with nearly a million operating hours. Current base price is $3.251 million with an average equipped price of $3.414 million. Prices include a comprehensive five-year maintenance and warranty program. Contact:
www.tbm850.com
and
www.tbmowners.org
.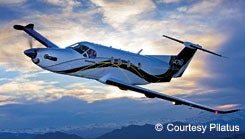 Pilatus PC12
Pilatus PC-12/47 NG
The newest PC-12/47 NG features a 532-pound increase in useful load over earlier PC-12 models. New this year is the SmartView synthetic vision system integrated into the four-screen Honeywell Primus Apex avionics system. With a fleet size of over 1,200, the PC-12 has been a very successful aircraft, and it's easy to understand why. First, it will go a long way between fill-ups. The maximum range is 1,573 nm at the max cruise speed of 280 KTAS and nearly 2000 nm if slowed to 250 KTAS. Second, it's indeed a great big airplane. Its huge cabin can accommodate up to nine passengers and a lot of stuff, so it's well suited to a wide range of missions, like executive transport, air cargo, air ambulance and special government missions. The PC-12/47 NG also features a forward passenger air-stair door, an enclosed lavatory and a large 52x52-inch rear cargo door. It can carry 1,029 pounds of payload with full fuel (402 gallons) and still operate out of a 2,650-foot runway while clearing a 50-foot obstacle. The maximum certified altitude is a weather-topping FL 300. Base price is $3.810 million, and typically equipped executive versions go for $4.582 million. Contact:
www.pilatus-aircraft.com
and
www.pilatusowners.com
.
Turbine Upgrades
Sometimes, it makes sense to upgrade existing turbines to even better turbine power. This is particularly true when an airplane has timed-out engines or when an upgrade can be used to rescue a financially upside-down aircraft. 

Blackhawk Modifications, Inc. There are a number of companies offering turboprop upgrades, but Blackhawk has one of the longest histories and broadest offerings. Turboprop upgrades are available for Piper Cheyennes and Cessna Conquests, but the most popular are new engines for the King Air 90 and 200 series and Cessna Caravans. These conversions significantly increase climb and cruise performance while decreasing operating costs. In the case of the Cessna Caravan, a Blackhawk conversion can double the climb rate, improve MTOW and takeoff performance, and increase cruise speed beyond a factory-new airplane. Visit www.blackhawk.areo.

Page 2 of 5