Tuesday, December 25, 2012
Shopping In The Fast Lane
A turbine buyer's guide
Mutli-Engine Turboprops
If you feel the need for a spare engine, multi-engine turboprops offer even more cabin space and more capability than turbine singles.
Beechcraft King Air C90GTx
With the recent 7,000th King Air delivery, Beechcraft has produced one of the most successful GA turbine aircraft in history. The C90GTx is the latest iteration of the popular C90 series, taking payload and performance to new levels. This year's model now sports composite winglets that look great and improve both climb performance and fuel efficiency. With dual PT6A-135 550 hp engines, the C90GTx turns in a respectable 272 KTAS top speed and can transport four passengers 1,236 nm with NBAA reserves. Payload with the tanks filled with 384 gallons of Jet A is an impressive 937 pounds. At MTOW, the C90GTx can operate out of runways as short as 2,552 feet. The spacious cabin can accommodate eight to nine, and features a large 48-cubic-foot rear baggage area that can handle up to 350 pounds and be accessed during flight. Throughout the cabin, 26 dynamic sound dampers are electronically tuned to damp propeller noise and produce an amazingly quiet ride. Passengers are treated to large, fully adjustable leather seats with plenty of shoulder room, light and luxury. Up front, the cockpit features the capable three-screen Rockwell Collins Proline 21 avionics package along with TWR-850 weather radar with four-color, six-range capability. The C90 fleet is over 2,000 aircraft, and 2013 prices start at $3.834 million. Contact:
www.hawkerbeechcraft.com
.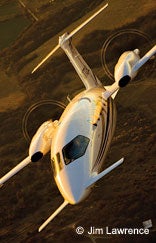 Piaggo Avanti
Piaggio P180 Avanti II
The Italian-made Piaggio P-180 Avanti II demonstrates that form really does follow function. With three lifting surfaces (the rear wings, forward wings and fuselage), everything on the uniquely designed Piaggio is there for a good reason—namely, to provide a spacious cabin, reduce drag and go as fast as possible. The resulting low-drag/high-lift configuration makes the Piaggio the fastest, most efficient twin turboprop in the sky with an impressive top speed of 402 KTAS. The certified ceiling is a jet-like FL 410 that helps produce a maximum range of 1,498 nm. The twin pusher PT6A-66B engines send exhaust and noise out the back, so that prop deicing is unnecessary and the cabin stays extraordinarily quiet. Fill the tanks with 418 gallons, and you can still load an impressive 1,498 pounds of payload and get in and out of a 3,282-foot runway. At a base price of $7.195 million, the P-180 competes with higher-end light jets in price, size and performance. Contact:
www.piaggioaero.com
.
Jets
If you've got the means and the need for speed, there's a lot to choose from in the light-jet market. All of these jets are single-pilot certified, equipped with more technology than many airliners and provide a whole new level of comfort for long-distance travel.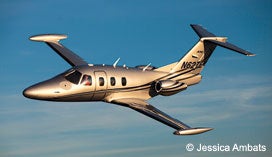 Eclipse
Eclipse Aerospace EA-550
The new Eclipse EA-550 is the most efficient twin jet on the market. With the ability to climb directly to FL 410, the EA-550 will cruise at 375 KTAS while burning a total of only 59 gph. Load full fuel (251 gal) and you can carry a payload of 636 pounds and travel 1,125 nm with NBAA IFR reserves. The Eclipse can get in and out of a 2,790-foot field (clearing a 50-foot obstacle), and now sports anti-skid brakes for powerful stopping power while protecting the tires. The interior features five leather seats with a dedicated 16-cubic-foot baggage area inside the pressure bulkhead behind the seats. Up front, the panel sports the Avio IFMS avionics suite that features dual FMS panels, full system synoptics along with support for integrated auto throttles, synthetic vision and EVS (enhanced vision system). Base price is $2.695 million, and deliveries are expected to start in 2013. Contact:
www.eclipse.aero
and
www.eclipse500club.org
.
Cessna Citation Mustang
The Citation Mustang may be Cessna's smallest jet, but it's a real jet and pilots agree that it handles just like a Citation. With leather club seating for four in back and a curtained lavatory, the Mustang is a favorite with passengers. Top the tanks with 385 gallons, load 765 pounds of payload and the Mustang can climb directly to its maximum certified altitude of FL 410 in 27 minutes. Maximum range at the normal cruise speed of 340 KTAS is 1,150 nm with NBAA reserves. Baggage areas in the nose, cabin and tail provide 63 cubic feet of space that can hold a maximum of 718 pounds. Up front, the cockpit features a three-screen G1000 system with the GFC 700 autopilot. Deice boots keep the airframe free of ice while the GWX 68 weather radar and XM weather link capability provide weather data. For 2013, Cessna is also introducing a specialized air-ambulance Mustang optimized for air-evac missions. Typically equipped price is $3.367 million. Contact:
www.cessna.com
and
www.citationjetpilots.com
.
Turbine Conversions
Some owners may consider the idea of simply hanging a new turbine engine on their trusty piston airplane. That might be a workable option depending on your pocketbook and what airplane you fly.

JetProp. Although the Spokane-based company has certified a number of different piston-to-turbine conversions, by far, the most successful is the JetProp conversion of the popular Piper Malibu/Mirage. Rocket offers a choice of three engines: the P&WC PT6A-21, -34 and -35. The conversion takes about 12 weeks to complete, and includes a full firewall forward conversion with new engine gauges, new fuel plumbing (with a header tank,) dual pitot tubes, new operating limitations, documentation and training. The JetProp has stunning performance. With the -35, flat-rated 560 hp conversion, the initial climb rate is about 3,000 fpm with a maximum cruise speed of 268 KTAS at FL 240 while drinking only 39 gph. At the maximum certified altitude of FL 270, the range is a respectable 1,000 nm with a full fuel payload of 356 pounds. It's a testament to the success of the JetProp that nearly 270 airplanes have been converted. Rocket Engineering also offers conversions for the B36TC Bonanza, the Beech Duke, the Beech Baron and, soon, the Beech P-Baron. Contact: www.rocketengineering.com.

Silver Eagles. Since 1993, O&N Aircraft Modifications has performed over 100 Silver Eagle and Silver Eagle II conversions of Cessna P210s and 210s to turbine power. The conversion to a Rolls-Royce 250-B17F/2 450 shp turbine produces climb rates over 2,000 fpm and cruise speeds of 215 KTAS. O&N recently announced FAA certification of the new 340 Silver Eagle a turbine conversion of the popular Cessna 340. Contact: www.onaircraft.com.
Page 3 of 5