Tuesday, December 25, 2012
Shopping In The Fast Lane
A turbine buyer's guide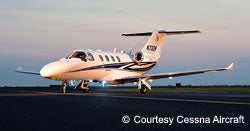 Cessna Citation M2
Cessna Citation M2
The new Citation M2 blends the best features of the Mustang and the (now discontinued) CJ1+ with winglets, and the result is one of the best-looking, most advanced CJs ever produced. Aerodynamic improvements and new Williams FJ44-1AP-21 engines with 1,965 pounds of thrust produce a maximum cruise speed of 400 KTAS with a range of 1,300 nm. The M2 can climb directly to its maximum certified ceiling of FL 410 in only 24 minutes. Full fuel payload is 700 pounds, with seating for up to eight and baggage capacity up to 725 pounds. The cabin features a fully enclosed rear lavatory, fully adjustable leather seating and the optional Heads Up "Clairity" integrated audio/video entertainment system. New options also include provisions for both global and domestic inflight Internet service. The panel features the newest three-screen Garmin G3000 Intrinzic avionics package with dual touch screen keypads. The M2 is single-pilot certified, and deliveries are expected to begin in Q3, 2013. Base price is $4.2 million. Contact:
www.cessna.com
and
www.citationjetpilots.com
.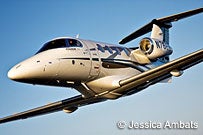 Phenom 100
Phenom 100
The Phenom 100 is a six-to-eight-place entry-level jet from Brazilian manufacturer Embraer with more than entry-level performance. The Phenom 100 features P&WC PW617F-E engines with 1,615 pounds of thrust, turning in a top speed of 390 KTAS. Fill the tanks with 419 gallons of Jet A, load up 780 pounds of payload, climb directly to the maximum certified altitude of FL 410, and the Phenom 100 can cover up to 1,178 nm with 100 nm NBAA reserves. Dedicated cargo space measuring 73 cubic feet of dedicated cargo space provides plenty of room for bags. The modern interior design created with BMW Designworks USA features leather club seating in the cabin with side tables and a fully enclosed rear lavatory. Up front, the easily accessible cockpit features the capable Garmin G1000 Prodigy flight deck with three 12.4-inch interchangeable screens. Wing and tail deice boots provide ice protection. Now made in the U.S., the 2013 base price is $4.08 million and typically equipped about $4.28 million. Contact:
www.embraerexecutivejets.com
and
www.phenom.aero
.
Do-It-Yourself
If you've got the bug to build, there are some impressive turbine kits on the market.

Epic LT. The Epic LT is a large all-composite six-seater with a top speed of 325 KTAS and an IFR range of 1,385. Topped with 288 gallons of fuel, the LT can still handle 1,170 pounds of cargo. The Epic LT takes about 14 weeks of build time at the factory, along with some additional upgrade time after the first flight, and will set you back about $1.9 million. Contact: www.epicaircraft.com.

Lancair Evolution. The Lancair Evolution is an all-composite four-seater that turns in a top speed of 300 KTAS. With full fuel, it can carry 837 pounds of payload and cover an impressive 1,133 nm between fuel stops. Build time is about 1,500 hours, and you'll spend about $1.15 million by the time the dust settles. Contact www.lancair.com.


Page 4 of 5