Tuesday, December 20, 2011
The Lure Of The Backcountry
Visiting a world only pilots know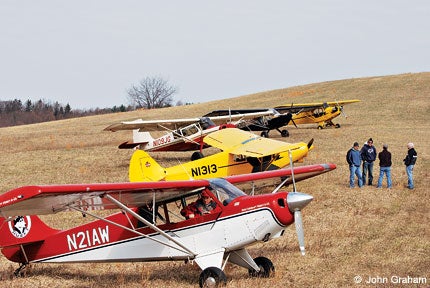 Intrepid pilots from the Ohio Bush Planes find a bare piece of ground that may not be level, but it's inviting.
Hiding far beneath the surface of aviation's well-known conservative demeanor are those who find their flying excitement off the beaten path. Far off the beaten path. These are the backcountry/off-airport folks who are having more fun than anyone should be allowed. All it takes is the right airplane, the right training and the right attitude to jump in and discover aviation all over again.
"Why do I do it?" answers John Graham, off-airport addict and one of the founders of the Ohio Bush Planes (
www.ohiobushplanes.com
). "It may have started because I'm a pipeline patrol pilot and spend a lot of time cruising low, and I wanted to be able to put the airplane anywhere should I have a problem. However, after our first Alaska trip, I was hooked. Landing off-airport is addictive."
The Ohio Bush Planes is typical of similar loose organizations popping up around the country, in which a bunch of pilots who dearly love seeking out challenging territory on which to land have banded together. Most of these landing spots are semi-recognizable as runways (more or less), maybe on farms, maybe out in the desert, up in the mountains or on river banks. Other spots are truly off-airport and may be an open spot in the sagebrush or a gravel bar in the middle of an Alaskan river. Most are shorter than normal but aren't overly challenging to a qualified pilot in even a light Cessna 182. Others present challenges that should be tackled only by the experienced crowd.
We're not talking hard-core bush flying here. Backcountry flying is a pleasing combination of social event and aviation challenge. These pilots like the fun and challenge of going where few, if any, people have gone before, and they like doing it with their friends (plus, there's safety in numbers).
John Graham and Greg Swingle, charter members of the Ohio group, point out, "This isn't for everybody, and most people probably shouldn't be doing it." Graham has a sign on his farm (which has five winding "runways" cut through his grass and snaking up his hills). It says "WARNING: Landing off-airport is dangerous. Landing on hills or gravel bars is treacherous. Don't risk yourself or your airplane to such foolishness." Of course, the only way you can read the sign is by landing off-airport on his farm.
Many of the groups, like the Ohio Bush Planes and
Backcountrypilot.org
, will organize major multiplane expeditions to Utah, Canada and Alaska to broaden their off-airport experiences. In fact, Greg Swingle and his wife Becky were married on a hilltop in the Alaskan wilderness while on one of those expeditions.
One of the focal points for many of the backcountry/off-airport fliers is Supercub.org. As the name implies, it's PA-18-centric, but just about everyone who likes to play in the dirt/grass/rivers belongs, so a wide range of airplane types are represented in their membership. If it can land short, or can be made to land and take off short, it will be found on Supercub.com. Anything goes.
Page 1 of 5
Labels:
Aviation Resources
,
Buyer's Guide
,
Buying A Plane
,
Features
,
Pilot Guide
,
Pilot Resources
,
Staying Current
,
Best Buys
,
New Aircraft
,
What's New
,
Aircraft
,
Aircraft Ownership
,
Adventure Flying