Tuesday, March 23, 2010
Top 20 Tips For Buying An Airplane
Preparation is the key to getting a great deal in today's buyer's market
There's no feeling that matches that of buying an airplane. If you're like most pilots, you've spent months—and maybe even years—dreaming about the perfect airplane, what it'd be like and what you'd do with it. You've probably also come to the realization that purchasing an airplane is no easy task. But with preparation, the right knowledge and a little bit of luck, buying an airplane can be an enjoyable and rewarding experience.
To help you become a satisfied and savvy airplane shopper, we've come up with our top 20 airplane buying tips. Whether you're thinking of buying new or used, these nuggets of wisdom will help you forage in the wilds of aircraft shopping.
1
USE THE 90% RULE.
Too many pilots fall into the trap of shopping for an airplane that fits their hoped-for mission, not their real mission. They find out—too late and after the papers have been signed—that they "overbought" an airplane that will sit, underutilized. Instead, use the "90% rule": Shop for an airplane that meets your needs 90% of the time, and rent for the other 10%. A six-seater that you're considering for family vacations probably will carry just you and a friend most of the time. Realistically list what you'll do with your airplane, and how often. The money you'll save by purchasing the right plane will pay for years of "10% rentals."
Real Stories
Of Aircraft Buyers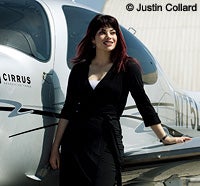 Get Tips From Buyers, And Learn From Their Stories
Nothing beats experience. When it comes to buying an expensive item like an airplane, it's wise to listen to those who have trod the path before. We talked to several buyers who recently went through the process—some smoothly and some not—so you could learn from their experiences.



New Airplane



Buyer: Anisa Shahin
Airplane: 2008 Cirrus SR22 Turbo
Airport: Santa Monica Airport (KSMO)
Profile: Anisa began flight training with the intention of buying a plane; she earned her private pilot certificate in 2008. The financial business professional wanted something modern, safe and fast. She went directly through Cirrus to buy the new SR22 in 2008.
Typical Mission: Business and pleasure; frequent trips under 1,000 nm.
Why This Airplane?: It met all her needs (nonstop flights between California and Idaho, strong IFR platform, four seats), and she was impressed by its comfort, safety and Cirrus Perspective avionics. Plus, she could take advantage of the accelerated depreciation benefit in 2008.
Intended Vs. Actual Use: Very close. Prior to receiving her instrument rating, she used the plane mostly for pleasure; now, she also uses it for business.
Best Flight: Boise, Idaho, to Albuquerque, N.M., in the summer of 2009. There was incredible scenery, and the avionics provided great comfort in avoiding developing weather.
Top Tips: Be familiar with what you want and need. Buy for your actual use, not some idealized use. Thoroughly understand the advantages and limitations of each option.
Page 1 of 7