Tuesday, June 21, 2011
A New Era Dawns: Electric Flight
An update on airplanes in production, competition prizes and R&D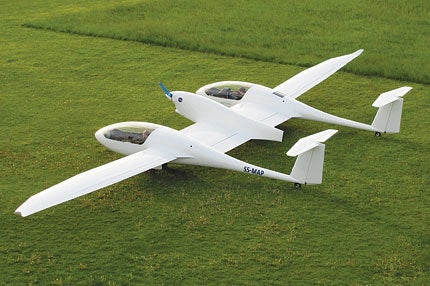 The two-fuselage, four-seat electric Taurus G4 has been entered by Pipistrel as a racer in the CAFE Green Flight Challenge.
Fantasy time: A shadow flashes across you as you walk toward the airport café. You look up. A plane cruises overhead, its prop whirring smoothly. A faint chirping whine reaches your ears. Ah...it's an electric. The elegant craft powers up and climbs away, still unnaturally quiet. Later it lands, rolls to a stop...and four people get out!
In truth, although electric-aircraft projects are popping up like mushrooms at airfields around the globe, a viable four-seat battery-powered cruiser, cut from the mold of a general aviation-style Cirrus SR22 or Cessna Corvalis, has yet to make an airport appearance.
That's about to change.
On a cold, gray day in Germany last spring, a sleek, super-lightweight composite aircraft lifted off from the runway on its first test flight, and flew 30 minutes. The PC-Aero Elektra One is the first in a line of electric-powered aircraft that includes a commercially produced four-seater—the Elektra Four.
The One stands out for its "normal" airplane appearance. This is no big-span motorized sailplane, exotic 200-foot solar-powered project or one-hour endurance hang-glider trike.
Dreamtime To Real Time
Hold on to your electric beanies, flight fans: There's arguably no more exciting sector in aviation today. You can buy, right now, several electric-powered aircraft, notably the Pipistrel Taurus Electro G2; Lange Antares 20E; Alatus-ME self-launching sailplanes; Icaro Elektro Swift flying wing; U.S. pioneer Randall Fishman's ElectraFlyer Trike and the Icaro 2000 Pit-trike from hang-gliding champion Manfred Ruehmer (who also developed the Swift).
The Elektra One, three years in development by Romanian engineer Calin Gologan, will likely join that list, packaged with a solar- power-generating hangar, for around $150,000.
The One is meant to appeal as a cruiser-style airplane. Its tapered wing delivers a 25:1 glide ratio, boosting the One's projected endurance to
three hours
per charge, and bestowing a maximum cruise of 87 knots and range of 215 nm—all on an 18 hp motor.
Another "cruiser" project, the Green Flight program, is a joint venture of Cessna Aircraft and Bye Energy. The goal: an electric Cessna 172. The project has been quiet since last year, but the demonstrator, evaluating both electric and diesel/electric hybrid power, will surely change the face of aviation if it comes to fruition.
Page 1 of 5