Tuesday, June 21, 2011
A New Era Dawns: Electric Flight
An update on airplanes in production, competition prizes and R&D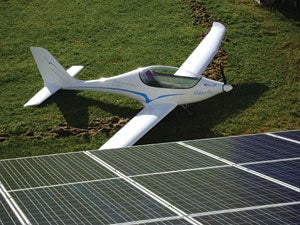 The Elektra One has a projected endurance of three hours per battery charge, with a max cruise speed of 87 knots on an 18 hp motor.
Frontrunning Electrics
Gathering big headlines is the 204-foot-span Solar Impulse, which recently flew for 26 hours (on energy stored by day-for-night cruising) at the ripping speed of 31 mph, in preparation for its around-the-world jaunt in 2013. That event should create major global attention for electric flight. The aerodynamics are impressive. Weight: 3,527 pounds—including 12,000 solar cells. Power: four 10 hp motors. The Wright Flyer had a single 12 hp engine.
Pipistrel, the prolific Slovenian light-aircraft manufacturer, sells its Taurus Electro G2, a two-seater with an integrated solar cell-bedecked trailer, which charges the batteries in five hours, no matter where the airplane sits.
The company also has entered the Taurus Electro G4, a two-fuselage, four-seat electric racer for the CAFE Green Flight Challenge, and recently debuted the Panthera, a futuristic low-wing, four-place speedster that will be available in three power signatures: gas, hybrid and pure electric, with a 145 kW (195 hp) motor for a 118-knot cruise speed.
The Toyota Of Electric Flight?
Then there's Yuneec International, the Chinese company with deep financial resources and 470,000 square feet of factory space that blew everybody's mind at Oshkosh '09 with the E430, a 45-foot-span two-seat S-LSA prototype, currently still in preproduction.
A hangar full of designs and electric power systems are in development, from the sublimely beautiful E430 to the E-Spyder (Tom Peghiny's highly refined Flightstar ultralight) to the Apis and E-Viva high-performance motorgliders (single and two-seat), a hang-glider trike, hang-glider and paraglider power harnesses and (yes, there's more) the E1000, a four-seat electric airplane. The E1000 concept proposes two electric engines mounted in tandem. Alright, alright, you had me at E430.
Sadly, the prototype E1000 crashed at press time, killing its designer, noted aerodynamicist Martin Wezel. His genius will be missed, especially at Yuneec, where he was deeply involved in several projects.
The latest word on the E-Spyder comes from Tom Peghiny. "We've optimized the propulsion system, developed the motor-management system, worked in new materials to reduce weight, and improved the aerodynamics of the wing to turn it into a viable commercial product. Tian (Yu, Yuneec's chairman) has wisely chosen to invest in the best practices for the company rather than rushing to market. They've taken a step back: He's creating a whole new airplane company, so practices and proper procedures must be set."
Yuneec isn't the only game in "electric" town. Several companies, some with significant funding such as the eGenius (Airbus) and the Green Cri-Cri (European aviation conglomerate EADS) are grubstaking ongoing research.
Page 3 of 5