Tuesday, December 1, 2009
Buying & Selling Strategies For 2010
This may be the ideal time to get a new or used airplane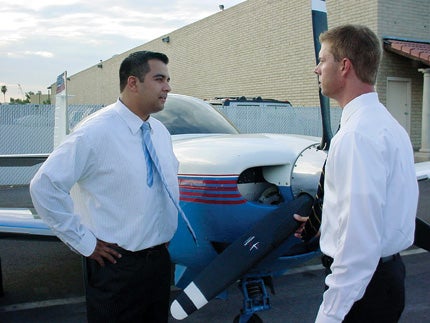 Today's GA marketplace is best described as difficult but not impossible. Unlike in the past, buyers are experiencing more difficulty finding an easy loan, and insurance requirements are tighter. Furthermore, sellers aren't able to retail their wares at anywhere near the prices of the past several years. But the silver lining is that these difficulties always bring opportunities for those who can take advantage of the present situation by acting quickly and decisively.
A Buyer's Market
Prices now are at, or very near, the bottom. Due to the soft economy, there's an excellent selection of new and used airplanes. Used airplanes are sitting longer on dealer lots, and they're sitting until they're priced with today's market, sometimes going through several markdowns. Recently, I sold a late-model Mooney that had been on the market for six months through four price markdowns. After it reached the correct spot for today's economy, a savvy buyer recognized the opportunity and snapped it up. He's now flying a newer airplane than his previous 1960s-era aircraft, with better avionics and a much lower price than he would have paid three years ago.
Likewise, new airplanes are sitting longer in dealer and factory inventories. A new airplane quickly becomes last year's model, so dealers and factory reps usually are eager to negotiate. A word of caution: While dealers and sales reps are definitely in the listening mood, buyers need to be careful, neither getting too empowered nor too aggressive. New airplanes have distinct advantages over previous (four- to five-year-old) iterations, and for the first time since the '60s, new airplanes have a clear edge in technology and capability over used models. Most new airplanes have glass cockpits with weather/traffic/terrain-avoidance features, and many offer air-conditioning or anti-icing provisions; their similar but five-year-old cousins don't offer these upgrades. Buyers who want the latest and best must look at new airplanes. And if the generous tax incentives stay around, it's almost a no-brainer: Buy a new airplane if you can afford it.

The silver lining is that these always bring opportunities for those who can take advantage of the present situation by acting quickly and decisively.

When the present inventory is gone, it'll take the factories and subcontractors nearly a year to spool up and resume production. At some point in the near future, the market will return to "buy and wait" for a new plane (versus "buy and fly now"). And once a new-airplane dealer has no inventory left, there's no incentive to discount anymore.
Page 1 of 3