Tuesday, October 21, 2008
Co-Ownership: Navigating Airplane Partnerships
Buying an airplane with a partner opens up ownership to any pilot. Do it right the first time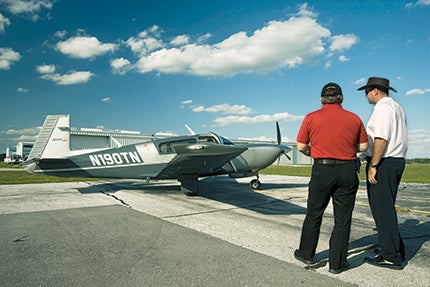 It's a safe bet that before the ink was dry on your solo endorsement, you started thinking about buying an airplane. If you stayed with the same FBO after your checkride, the negative aspects of renting became clear: dirty cockpits, long squawk lists, items held together with duct tape, and having to schedule weekend flights far in advance. Like many pilots, you probably made some calculations and figured out that you could never afford to own. Most people stop there. But there's a way that almost anybody with just about any income can own an airplane. The answer: a partnership or, more correctly, a co-ownership.
Why Co-Ownership?
Let's begin by getting rid of the word "partnership." In legal terms, a partnership refers to an association of two or more persons who, together, operate a business for profit. The key phrase there is "for profit." Since two people wanting to own an airplane has nothing to do with profit, "co-ownership" is the proper legal term. The simple reason for co-owning is to spread the costs of owning an aircraft among multiple owners. Two owners cut the costs in half. Three cuts the cost by 65%, and so on. Also, because fixed costs like hangar rental and annual inspections stay the same no matter how often you fly, co-ownership has the peculiar advantage that every hour you fly is cheaper than the one before.
What Kind Of Organization?
There are different ways to legally organize a co-ownership, and there are pros and cons to each. The type of organization carries various financial and liability implications, and specifies the legal operating parameters of the entity.

Simple co-ownership:
There are two flavors of co-ownership: tenancy in common and joint tenancy. The main distinction between the two is the way a co-owner's interest (the person's share of the airplane) is dealt with when he or she dies. In a tenancy in common, the interest passes to heirs based on the co-owner's will. In a joint tenancy, the interest is passed to the other co-owners instead of the co-owner's heirs. A co-ownership isn't taxed because it isn't a business entity. This is the simplest multiple-owner arrangement.
LLC:
Limited liability companies are attractive to owner groups because they limit the liability exposure of the individuals. If a mishap occurs, lawyers can't go after the personal assets of the individual members. In an LLC, members don't own the airplane. The airplane is owned by the LLC, and the individual members, in turn, own shares of the LLC. As far as taxes, members of an LLC report their share of profits/losses on their individual tax returns.
Page 1 of 4