Tuesday, July 3, 2012
Getting A Lot For A Little
Some affordable enhancements can give new life to any aircraft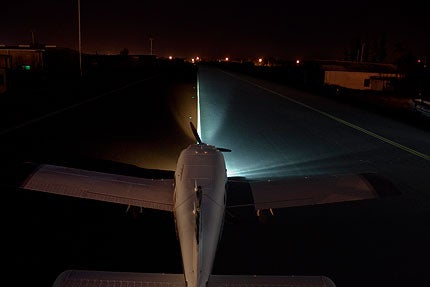 LoPresti Boom Beams
As much as we'd all like to purchase a newer, bigger or faster airplane, the reality for most of us in these economic doldrums is that we can't. Lenders have tightened the reins on aircraft financing, and prices of new aircraft seem to be on a never-ending upward trend. The good news is that we can get a lot of "bang" for just a little "buck" by making some creative—and relatively inexpensive—enhancements to the airplane we already own.
Aircraft have historically been questionable investments from a purely financial standpoint. While there were a few decades there where a general aviation airplane would go up in value every year, the situation has changed, and the market has become more volatile. As such, lots of aircraft owners are choosing to stick with the airplane they have now rather than risk jumping into a brand-new craft at many times the price and with no guarantee of future appreciation. Though the hidden truth is that we buy airplanes because we love to fly—and not because it makes financial sense—keeping the airplane we already have makes good sense, and keeps our spouses and accountants happy.
But what if we're tired of that same old airplane in the hangar we know so well? Maybe the paint is starting to show its age, or that dark-burgundy velvet interior (Cessna actually offered this) is looking a bit "mid-century" in a bad way. Perhaps the panel needs some new capabilities to keep up with technology, or maybe we just want to fly safer. It's for these reasons that owners can save a ton of cash by strategically improving their current aircraft with enhancements that won't squeeze the bank account too much. Giving an older, "well-worn" aircraft new life is entirely possible on an even miserly budget.
LoPresti Boom Beams
www.speedmods.com
With more than 40 supplemental type certificates (STCs), patents and copyrights, legendary LoPresti Speed Merchants are considered gurus of speed and safety modifications for aviation. That track record continues with their Boom Beam landing-light system. Anybody who has suffered a night landing with anemic landing lights (and that's most of us) needs to see this lighting system in action— it's that impressive.
The Boom Beam High Intensity Discharge Xenon system increases lighting by 500% or more over most landing lights (output is about 500,000 candlepower!). Available in both 14- and 28-volt versions, the system comes in three beam widths: "taxi" (54° degree), "intermediate" (17° degree) and "landing" (9° degree), and consists of a power supply, shielded high-voltage wire harness, plug-in HID lamp, mounting hardware and the reflector assembly. Boom Beams give off a very pure, white light similar to the new Porsche automobiles. With a five-year warranty and a bulb life of 5,000 hours (drawing a miserly 1.4 amps at 28 volts), this mod is a must for night operations. Price: starts at $948.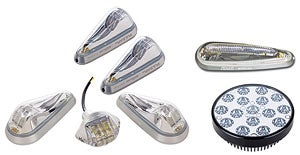 AeroLED Strobes
AeroLED Strobes
www.aeroleds.com
AeroLED produces TSO-approved replacement lights using the latest LED (light-emitting diode) technology. The LED nav/strobe lighting systems provide lots of benefits over "legacy" wing-tip and strobe lights, including a much longer bulb life (LEDs will last over 50,000 hours) when compared to a halogen bulb (typically 100 hours) or even a xenon bulb (about 2000 hours). These wing-tip lights are efficient, only drawing about 1⁄3 the power of conventional lights, and keep their brightness even at low RPM. Their solid-state nature means they're impervious to vibration, stay cooler and weigh less than standard lights.
AeroLED offers several models of lights for different aircraft, including direct replacements for Whelen or Grimes lights, as well as landing, beacon and taillighting. All AeroLEDs have a built-in pulse mode and synchronize with each other for a "wig-wag" effect to enhance the aircraft's visibility. Price: $895 for the Pulsar NS180 nav/strobe combination.
Page 1 of 4