Thursday, November 1, 2007
Partnership Aircraft
With careful planning, shared ownership could be the best way to go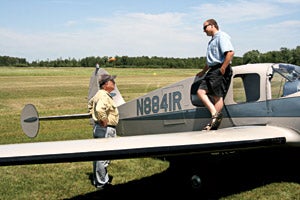 Partnership agreements should clearly define how a partner can expunge a problematic partner, should issues arise.
The other downside to joint or shared ownership is that your airplane is being flown by a lot of strangers who may or may not share your views of proper procedures and your level of overall care. Also, it's rare, but there can be scheduling conflicts and lack of availability on short-term notice. The fractional programs generally strive to juggle everyone's needs and make everything work, but there can be times when you're flying on the airlines.
Many of today's fractional owners, after seeing the utility of aircraft ownership, are taking the next big step to individual ownership after getting their feet wet on a shared basis.
Why are some partnerships great and others a disaster?
Successful aircraft partnerships all seem to have several common underlying elements, and the unsuccessful, nightmare aircraft partnerships share some common underlying weaknesses. By examining these, you can steer yourself toward a pleasant, rewarding partial-ownership experience. If you're in a partnership that isn't working, maybe some of these steps will help fix the arrangement.
There are many common elements of a successful aircraft partnership. Few aircraft partnerships are exactly alike, they seem to be crafted to fit the specific needs of the parties, but the most important idea among the successful ones is that they're run as a business and not a hobby. Ideally, someone outside the partnership, like a CPA, keeps track of the expenses and accounting. The partnership is kept on a sound financial footing, with engine and maintenance reserves actually being deposited into a bank account. There's a formal partnership agreement that, most importantly, outlines an exit strategy for a partner. Partners are humans who have financial reverses, remarry to spouses who don't like airplanes, have disagreements with the other partners, move away or pass away. A partnership agreement should clearly spell out how one partner can exit or how the other partners can fairly and equitably expunge a problematic partner.
A successful partnership doesn't consist of partners who are struggling to buy and fly an airplane that's out of their financial means; rather, it includes partners who can easily and comfortably afford the airplane, almost on their own, but choose not to.
Successful shared ownership should have an operating agreement and a set of rules whereby the obvious decisions are already made, such as the amount of insurance carried, the minimum pilot qualifications for members, who is responsible for maintenance, each member's duties of caring for the aircraft and the scheduling protocol.
The best aircraft partners are the ones who think alike on all the big decisions of operating the airplane, such as maintenance, scheduling, finances, care and operation, and upgrades.
Page 2 of 4