Thursday, May 1, 2008
We're Headed For The Future
It's a great year to buy a plane!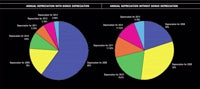 With bonus depreciation (above, left), annual depreciation for 2008 is 60%. Without bonus depreciation (above, right), annual depreciation for 2008 is 20%.
Take a minute to look at the effect on depreciation deductions with and without the bonus depreciation. For discussion purposes, there are exceptions that will change the numbers depending on when in 2008 you actually acquire your aircraft. These are referred to as the mid-quarter rules. With those differences noted, however, without the 50% bonus depreciation, the first-year depreciation is 20% of the cost. If you equate this 20% to a 35% tax rate, the depreciation deduction in 2008 will reduce your income taxes by about 7% of the airplane's cost. For example, if the airplane cost $500,000, then you can expect to reduce your tax bite by $35,000.
Now, let's take a look at how the recently passed 50% bonus depreciation can affect 2008. With the bonus depreciation, the first-year depreciation is raised to 60% of the cost. Again, if you equate this 60% to a 35% tax rate, the depreciation deduction will cut your tax bite by 21% of the airplane's cost. Following the same example of a $500,000 airplane, this will save $105,000 of income tax. Think about this, if your down payment is 20% ($100,000), the IRS has just reduced your 2008 taxes by enough money to make the down payment and put $5,000 in your pocket. Now for the catch—with a couple of exceptions, bonus depreciation only applies to new aircraft bought and placed in service in 2008.
Now don't give up on me just yet. Remember when I said there were also incentives for used airplanes? Well here we go with updated Section 179 deduction amounts for 2008. Unlike the bonus depreciation, the Section 179 depreciation deduction applies to new or used equipment and airplanes. The updated 2008 amounts permit the taxpayer to write off up to $250,000 of the cost of the airplane purchased in 2008 as long as the total cost of all equipment purchased by the business in 2008 doesn't exceed $800,000. There's also the added criteria that the Section 179 deduction is limited to income; therefore, unlike the bonus depreciation, it can't be used to generate a net operating loss.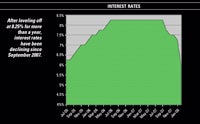 When you think about the possibility of buying a new or used aircraft that costs $250,000, and being able to totally write it off in 2008, the cash flow numbers really become interesting. At a 35% tax rate, that's a tax savings of $87,500. That will more than make the down payment and cover the note payments and operating expenses for a couple of years.
If you want to get creative, and if everything will fit, consider what will happen with the $500,000 airplane referred to earlier if we put the bonus depreciation and the Section 179 depreciation together. Assuming this is a new airplane, the total first-year depreciation deduction could go as high as 80% or $400,000. Do the math on those deductions at 35%, and you'll see that you can save $140,000 in tax in 2008.
These incentives aren't just for the purchase of aircraft. These incentives also apply for modifications, refurbishments, improvements, and additions and replacements that are required to be capitalized. These incentives will therefore benefit the whole spectrum of aviation.
This is also a good time if you fly solely for fun and pleasure. You can buy a good used two- or four-seat personal aircraft without having to sell the house to do it. Although you may not intend to use your airplane for business and won't benefit from the depreciation deductions, the interest rates on home-equity loans are pretty good right now, and there's a good chance that you'll get a tax deduction for the home-equity interest that you're paying. This way, the bank is helping out with the purchase of the aircraft with good financing terms, and the IRS is helping out with the tax deductions on the interest you're paying.
Interest rates are always chasing an ever-changing climate and economy. They're subject to change daily based on the feeling of the Federal Reserve Board. So even though interest rates are low at this time, they're, as always, subject to change. If you need some time to get your finances squared away, I think you'll have some time in 2008. The depreciation incentives are only good through 2008, so once 2008 is over, so are the tax incentives.
So here we are. We have the manufacturers on board with product to sell, we have the banks on board with the money to loan and we have the government on board with the tax incentives. Is this a good time to buy a plane? You bet it is!
O. H. "Harry" Daniels Jr. is a CPA and a CFP licensee. He's a partner with Duggan, Joiner & Company, Certified Public Accountants. Harry has held his license as a private pilot since 1991. E-mail him at This e-mail address is being protected from spambots. You need JavaScript enabled to view it .

Page 2 of 3