Friday, April 4, 2014
The Handsome, All-Terrain Bush Plane
Pick your "feet" for snow, water or land: You get them all with this rugged LSA
Speaking Truth To Power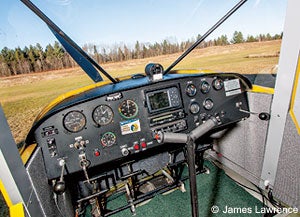 If you've looked into LSA, you're likely aware that the Rotax, liquid-cooled, four-stroke faamily of powerplants lives under the cowl of around 80% of all models.

There are many contenders for the propulsion throne, however: those mentioned above, proprietary engines from airframe makers such as CubCrafters' 180 hp CC340, auto engine conversions, after-market mills such as the UL 260i, Viking and ICP M09, and more.

Now comes the AeroPower series of engines from Italian manufacturer MW Fly. BushCaddy's Tony Watkin added MW Fly to his stable of power plants to serve his diverse fleet.

Several versions are available from 95 to 150 hp, with 180 hp and 220 hp versions in development. The gestation of the fuel-injected, electronic-ignition, liquid-cooled, four-cylinder, horizontally opposed block has spanned 10 years.

Watkin likes it because, "the same engine package fits all our models: The mounting parameters are the same, which gives installation consistency."

That lets him offer any horsepower in the range to kit builders without having to change motor mounts or electrical, coolant or engine sensor connections.

Watkin is the Canadian rep for MW Fly. "We are developing the network here and in the U.S. so we can send a technician anywhere to help with troubleshooting fitting issues."

To date, MW Fly has sold 100 engines; 70 are flying worldwide.

The 185-pound dry weight and 115 hp version is equivalent to the Rotax 914, but costs $16,900; the 914 goes for more than $31,000.

Standard features include overhead cam, fully balanced composite crankshaft with ball bearings, needle bearings and splash lubrication—even with complete failure of oil pressure, the engine will keep running indefinitely.

The Italian company sees itself as a direct competitor to Rotax. The engine runs at a lower rpm (max: 3,950) than the Rotax (max: 5,800) and has a recommended TBO of 2,200 hours. MW Fly's engineers consider that a conservative figure: They expect to reach 3,000 hours.

One interesting wrinkle: the ADC variable compression feature. Engine compression goes to 5:1 at lower rpm settings such as startup and taxiing. That lets it operate more easily due to less internal resistance, which puts less strain on the engine, gearbox and battery.

There's no kickback on start-up and shutdown from the gearbox, for a smooth operating feel. When more power is needed, the compression automatically jumps to 10.5:1, but as engine co-designer Stefano Marella told me, "You don't feel the difference at all."

"Even though the 95 hp version is a bit heavier," says Watkin, "we expect better performance than with the Rotax 912. It's a very 'torquey' engine, so we can run a longer prop and displace a lot of air."
Page 5 of 5