Tuesday, June 22, 2010
DA 42 In The Second Generation
The Diamond Twin Star now has its own Austro AE300 turbo diesel engines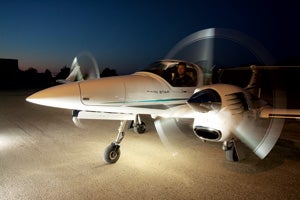 A Different Breed Of Twin Star
A Lycoming-powered version of the Twin Star, the DA42-L360, features a 180 hp piston engine on each wing. It offers similar performance to the DA42-NG, and many of the type will undoubtedly find favor on this side of the Atlantic, especially on the owner-flown market, in areas where avgas availability isn't a problem. The primary product will likely remain the DA42-NG with the Austro 168 hp turbo diesels installed, perhaps the better choice for operation overseas where avgas is scarce and often pricey.
Austro Engines GmbH was specifically established in 2007 to certify and produce the AE-300 turbo diesels in conjunction with technology partners Mercedes-Benz Tech and Bosch. The new powerplants are similar in concept to the Thielerts they replace, but there are some notable improvements. The gearbox now offers a design life of 2,000 hours, though TBO remains 1,000 hours at this writing. Diamond mounts the new Austros with a four-point rather than the three-point mount used on the TDI. The crankcase is now cast iron versus aluminum, better suited for the higher power output. Improved turbo and induction air efficiency increases critical altitude to improve high-altitude climb and cruise performance. An integral oil coolant/heater exchanger eliminates external oil lines and oil cooler. Overall, it's a highly refined package of engine power components.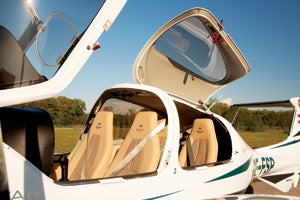 Twin Stars of any description have always looked like something Luke Skywalker might fly, with tall T-tails and fancifully swept winglets gracing both tips, lending end-plate effect to lift. There's also a large ventral fin beneath the waspish empennage. It's an imposing airplane from the front view with a big, 44-foot-wide wingspan. (Try to fit that into a standard T-hangar.) The wing is a very high-aspect-ratio design (short chord, wide span), similar to Diamond's other models that emphasize gliding efficiency.
The diesel engines seem almost outsized compared to the Lycoming version, not surprising since diesels generate more heat, are structurally larger and are about 40 percent heavier than comparable piston mills.
Inside, fittings and materials are so plush and comfortable, it's clear that this is more than merely a trainer. Leather is everywhere, and the airplane is fitted out as nicely as a BMW sport sedan.
The DA42 was obviously designed for both flight training and the owner-flown market. With the large, two-screen Garmin G1000 gracing the panel, businesslike, center-stick roll and pitch controls (rather than side sticks) and single-lever power controls that combine throttle, propeller and mixture management, the DA42-NG easily side-steps any criticism that the design is entrenched in the last century.
Page 2 of 3