Tuesday, June 19, 2012
Diamond's Family Star
Diamond's innovative, four-place Star offers performance and efficiency beyond its price
A Conversation With Peter Maurer

President, Diamond Aircraft, Canada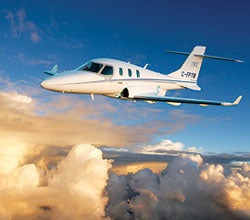 Diamond D-Jet

"The  reality is that the market changes," says Peter Maurer, President of Diamond Aircraft, Canada. "When Diamond announced the five-seat DA50 SuperStar in 2007, high-performance singles were the best-selling segment with Cirrus, Columbia, Mooney, Bonanza and Piper all competing for buyers who didn't much worry about fuel prices back then. Our prototype flew behind a FADEC 350 hp Continental TSIO-550 engine, and it was quite clear the DA50 would need very big tanks.

"Before the aircraft could be brought to market, fuel prices went up, angst over lead in Avgas developed, and the economy tanked in late 2008.  By that time, our Austro engine was becoming reality, and an environmentally friendlier version of the DA50 using the AE300 engine was developed. Ideally, we would like to see 230 to 260 turbo-diesel horsepower in this airframe, but we have to wait a little longer for that," says Maurer.

In the meantime, Diamond CEO Christian Dries found a way to bolt more horsepower onto that spacious fuselage. The newest project at Diamond Austria is the DA52, a twin-engine derivative of the single-engine SuperStar. "Just as the DA42 Twin Star evolved from the DA-40 Star, the DA52 uses essentially the same fuselage, empennage and outer wing planform as the DA50, along with a pair of Austro AE-300 diesel engines bumped to 180 hp each," Maurer explains.

"We apply a modular platform development concept like the auto industry, adapting existing components to new designs. This allows record-breaking speed in development of prototypes and also simplifies the later certification work. DA52 has an all-new nose and wing center section but borrows heavily from the DA50 and DA42 for the rest. The cabin is very large, with a pair of gullwing doors for the front row and a huge aft door allowing easy access to all seats. The airplane features a modular seating concept ranging from five to seven seats in two or three rows, in a variety of configurations," Maurer explains. Preliminary flight tests have already suggested climb rates of 1,700 fpm and cruise speeds as high as 190 knots, all while sipping globally available and lead-free JET-A.
 
The Diamond D-Jet is an exciting project, and a recent infusion of development cash has allowed Diamond to continue expanding the envelope. "We have three airplanes in development, and our design targets are 315 knots at a maximum altitude of 25,000 feet with a cabin pressurized to 5.5 psi. That will provide a cabin altitude of 8,000 feet and allow the airplane to fly above 90% of the
world's weather.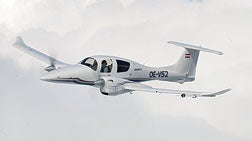 Diamond DA52

"We're currently 70% complete on the D-Jet program and 100% finished on the aerodynamic configuration," says Maurer. "We've done most of the static tests, pumping a test cabin up to two times nominal pressure and cycled it a total of 20,000 times. To keep the Williams FJ-33A's bifurcated air inlet warm in possible icing conditions, we're pumping bleed air to both sides of the inlet. We're currently experimenting with the stick pusher to determine the activation system that will automatically reduce the angle of attack in the event of an approaching stall."

Maurer anticipates the program will be complete in 24 months, and the first production airplane should fly away from the London, Ontario, Canada, factory in Q3 2014.

Diamond is also experimenting with a number of other special project applications for the DA42 Twin Star and HK36 motor glider. "We have a daughter company in Wiener-Neustadt, Diamond Airborne Sensing, that's employing several of our aircraft on special mission applications. We used the motorglider for TV coverage on Monday Night Football, utilizing gyro-stabilized cameras. The HK36 has also worked well in Australia doing environmental air sampling for a variety of applications.

"For missons that involve IMC operation and useful load concerns, we're now using the DA42. That airplane has the advantage of carrying a 200-pound photogrammetry package in the nose and can transmit real-time satellite uplink anywhere in the world," says Maurer.

"The same airplane can be equipped with a variety of electronic sensors and has been employed in a number of diverse missions, everything from fire-spotting and reconnaissance in the Ukraine to border patrol, security operations and some projects for the British Ministry of Defense in Afghanistan. We even have a number of DA42s operating as UAVs, doing photo reconnaissance work without putting a pilot risk.

"Here in Canada, the airplanes are also employed in mining survey work, flying low with magnetometers under the wings, looking for various mineral deposits," Maurer comments.

"We're always looking for new applications," says Maurer, "and while the multi-faceted, twin-engine DA42 is currently our leader in that market, we're especially pleased that the Star XLS is regarded as the best airplane for practically all reasons in the fixed-gear, 180 hp class."
Page 5 of 5