Monday, August 1, 2005
"Star Wars!"
The Force behind the Diamond DA42 Austrian invasion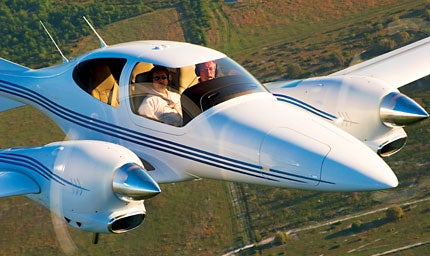 Okay, perhaps it's true other countries outdo the USA when it comes to manufacturing automobiles, computers and TV sets, but there has never been any serious competition with America's general aviation airplanes. Companies such as Piper, Cessna, Beech, Mooney, Maule, Cirrus, Lancair, American Champion, American General, Commander and Grumman-American have accounted for the vast majority of light aircraft sales in the last half-century.
Diamond Aircraft of Wiener Neustadt, Austria, wants to change that. Diamond is serious about selling airplanes on the world market, and it's determined to challenge America's supremacy in light aircraft sales. Diamond has been building the HK-36 motorglider for years, and it applied the same high-lift technology to the DA20 Katana in 1995. Since then, the company has progressively modified and improved its product line and has made significant inroads in North America, selling more than 400 of the two-seat Katana trainers and another 250 DA20-C1s (essentially the same airframe, but with a 125 hp Continental in place of the 81 hp Rotax 912). The DA20-C1 is truly a second-generation improvement of the DV/DA20 Katana. The C1 underwent a complete redesign, and while it looks pretty much the same, there are no common parts from the predecessor DV20/DA20-A1.
Diamond's penetration into the American trainer market was reinforced in 2002 when it began delivering DA20-C1s to the USAF for primary flight training at the Air Force Academy in Colorado Springs, Colo. Beginning in 2000, the company began marketing the stretched, four-seat DA40 Diamond Stars, and over 400 airplanes later, Diamond has effectively stolen sales from Piper's Archer, Cessna's Skyhawk and Skyhawk SP and Cirrus' SR-20.
Now, Diamond has launched a take-no-prisoners assault on the light-light twin market. The all-carbon-fiber Diamond DA42 Twin Star is the first new twin in nearly a quarter-century. It's tempting to label the new Twin Star as simply a multi-engine version of the elegant Star, but while the new model's fuselage and tail are admittedly adaptations of the single (with the addition of a forward baggage compartment in the airplane's stiletto nose), the DA42 is much more than "simply" a Star with two engines.
Page 1 of 5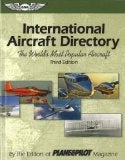 International Aircraft Directory

Plane & Pilot Magazine