Tuesday, December 15, 2009
The Single-Engine Jet From Diamond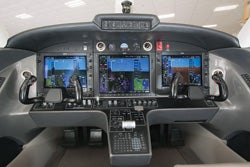 The D-Jet's G1000 avionics system offers the largest displays in the aircraft's category.
As part of my introduction to the D-Jet, I had the opportunity to sit down and speak with Diamond COO Ken Harness. In addition to overseeing production at the London plant, Harness was tapped to directly oversee the design, certification, test and production of the D-Jet. From Harness, I learned what I had previously hoped to be the case: The D-Jet is a dirt-simple airplane—that's a really good thing. Diamond has employed one of the best airplane design practices out there, KISS ("keep it simple, stupid"), with incremental technological steps. Though Diamond took some technical risks in the certification of the D-Jet, it has done a great job of mitigating them.
Powered by a dual-channel, FADEC-controlled Williams International FJ33-5A medium-bypass turbofan engine, the D-Jet's engine control is as simple as it gets: a single thrust lever and a start switch. (The FJ33 also will appear on the D-Jet's single-engine competitor, the Cirrus Vision jet.)
One of the single greatest technical challenges Diamond has had to contend with, thus far, is its bifurcated engine duct design. Diamond made a significant commitment to making the D-Jet easy to fly by placing the engine's thrust line along the aircraft's vertical center of gravity. As a result, when thrust is applied or reduced, there's a relatively small, if any, change in aircraft pitch. Compare that to some of the other single-engine jet designs, in which the engines are placed above the aircraft center of gravity, sometimes requiring relatively complicated thrust-vectoring systems.
The cockpit ergonomics of the D-Jet are superb. Circuit breakers are hidden, yet easily accessed, beneath the outboard pilot and copilot armrests. The pilot and copilot audio panels are placed just forward of the outboard arm's resting location. The large GFC 700 autopilot control panel is centrally located on the glare shield. The FMS keypad used for entering flight plans into the G1000 is just beneath the inboard hand-resting position, adjacent to the single thrust lever. Diamond owners transitioning from a DA40 or DA42 will have an easy time finding their way around the D-Jet's cockpit.
The D-Jet has one of the most comfortable and ergonomic cockpits of the Garmin G1000–equipped jets currently in production, and it has the largest cockpit-screen layout, with two 12-inch PFDs and a 15-inch MFD.
Though the aircraft I flew didn't have a production interior, the mockup at Diamond's facility did have the final production configuration. Moving from the cockpit aft, you can't help but notice the width and height of the D-Jet cabin. The width behind the cockpit seats is as wide as a King Air 350 at just under 55 inches.
The D-Jet's aft seats are similar in size and comfort to those of a 7 Series BMW sedan, with bench seating for three. LED lights accent the sidewalls and the cabin. A work desk can be pulled up for the aft right seat. Sitting in the back seat, I could almost fully extend my legs without hitting the back of the pilot seats—a difficult accomplishment in most light jets.
The D-Jet truly is a "personal jet." It's not an overwhelming concept to own and operate this aircraft. Behind the D-Jet is a good company with a long-standing track record of producing good aircraft. Undoubtedly, there'll be challenges for Diamond to contend with as it marches toward certification (barring any future delays, Diamond expects to achieve this later in 2010) and production of its first turbine aircraft. Still, I feel confident in the company's ability to deliver the D-Jet to a market of hungry customers looking to step up to their first jet.
Training With ATP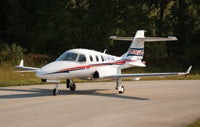 Airline Transport Professionals (ATP), one of Diamond's largest D-Jet customers, has been selected as Diamond's training partner in providing aircraft and simulator training to Diamond owners and operators. While flying for a commuter airline himself, ATP's president founded the school in 1984 in Atlanta, Ga., with just one airplane and an emphasis on providing fast-paced, low-cost ATP certificates for military and civilian commuter pilots.

ATP's reputation quickly spread by word-of-mouth referrals, and ATP opened more training centers and acquired more aircraft to meet the demand for high-quality multi-engine training.

In 2006, ATP ordered 20 Diamond D-Jets that will, ultimately, provide training for D-Jet buyers and expand the school's ab initio training programs. ATP's programs include initial and recurrent training courses that use a combination of Level 6 FTDs and training in actual aircraft. Pilots can expect an approximate 3:2 ratio of FTD-to-airplane training. ATP has a history of training jet pilots, as it currently teaches in its CitationJet and Canadair Regional Jet simulators. The school has thousands of hours of hands-on experience working with pilots transitioning to jets. It knows what training techniques work best for the transitioning pilot, and its Citation and regional jet instructors understand the challenges specific to jet training. Over the years, ATP has used its jet-transition expertise to help thousands of pilots secure regional airline and corporate pilot positions—more than any other flight training school or academy. Visit www.atpflightschool.com.
Page 3 of 4