Tuesday, July 17, 2012
The Little Jet That Can
The Eclipse 500 is back, and this time, they've done it right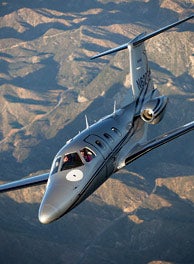 The Eclipse is powered by two Pratt & Whitney PW610F engines and cruises at 362 knots.
A pilot can select a desired speed, and the autothrottle system will hold that speed through all phases of flight, consistent with normal engine operating parameters.
A pilot may also command a constant thrust for a given phase of flight, such as takeoff, climb and cruise of descent, and the autothrottle system will regulate engine power for each mode. The benefits of such a system are reduced fuel burn and extended engine life while still operating within optimum temperature and pressure limits.
The new model will also feature a new avionics package, including dual integrated flight-management systems, synthetic vision and enhanced vision.
Synthetic vision is reasonably new technology that presents a real-time, GPS-based image of terrain, obstacles and airport features ahead.
Enhanced vision offers perhaps the ultimate Forward Looking Infrared that images heat rather than a straight optical image. It will, for example allow a flight crew to "see" a vehicle or deer crossing the runway ahead in zero-zero fog.
Holland commented there was nothing wrong with the existing Avio NG system, but incorporation of all the new avionics technologies demanded a little more microprocessor horsepower to power the redundant flight-management systems.
In conjunction with its business partner, Sikorsky Aircraft, Eclipse recently signed a contract with the Polish aerospace firm PZL to manufacture the fuselage and wings for the 550. PZL is a long-time Sikorsky contractor and has been producing the S-76 and Blackhawk helicopters for several years.
PZL will ship the components from its Mielec, Poland, plant, and Eclipse will assemble and finish the airplanes at its facility in Albuquerque. Holland said production rate will obviously depend upon the market, but he's realistic about prospective sales.
"We hope to initiate production at four airplanes a month," said Holland, "but we could ramp up to 10 a month if there's strong demand." List price for the Eclipse 550 will be $2.615 million.
In a sense, the promise of the first VLJ nearly a decade ago has been fulfilled. No one can guess if there's truly a market for thousands of mini jets, but the Total Eclipse 500 has indeed redefined our vision of a "personal jet." The upcoming Eclipse 550 should only strengthen that image as the leader in a whole new class of airplane.
Page 5 of 5