Tuesday, December 15, 2009
Light-Sport Chronicles: School Daze
Three ways LSA flight training is getting done in America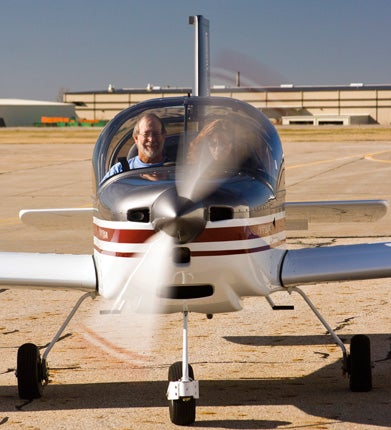 Recently, I fired up the Skype to glean some insight into LSA flight training in America. Mike Zidziunas got the first call. In 2005, he approached an FBO and offered to come aboard as their LSA go-to guy. With his Rotax repair certificate and CFI ticket, he was a natural.
Problem was, to these folks, LSA were "
aeroplana non grata.
" They had been burned by the recreational license program and feared bad juju from the sport pilot movement.
So Zidziunas did what visionary types do best: He started his own LSA flight school—Mike Z Sport Aviation (
www.mikezsportaviation.com
). His Plant City, Fla., operation is five air minutes from Lakeland Linder Regional Airport—HQ for the EAA's annual Sun 'n Fun Fly-In.
Four years later, that balky GA flight school is doing the "I could've had a V8!" forehead bop, because Zidziunas has a going concern on his hands.
"In the beginning, I had nine students training at a time, and people wait-listed. I'm now a Rotax Repair Center, so that got to be too much, and I'm hiring another CFI."
Student washout has been light: two or three total. Twelve have completed training and passed their sport pilot checkrides. Meanwhile, his trusty German-built Ikarus C42 trainer has racked up 450 hours: "The one before had 250 hours on it."
Because this is Florida, most students are middle-aged and up. As Zidziunas explains, "Being able to get around the difficulties of the flight medical is my strongest selling point. And LSA are cheaper to operate, but also expensive to buy. That keeps the younger pilots from coming out. They can buy Cessnas for $25,000, and flight training is still cheaper in a C-152.
"What I can offer is a brand-new, exciting plane with more room, more comfort and more useful load. You can't put a couple of 200-pounders in a 152. But in my Ikarus, at my 180-pound weight, I can fill the tank, carry a 260-pound student, and still be under maximum takeoff weight."
Has LSA training translated into LSA sales? "Not really," says Zidziunas. "Prices are too high, and the economy has hurt light sport a lot. You can't get loans. But GA pilots are blown away. LSA are cheaper, sportier—they just whip up on GA airplanes. But that retired businessman who might love to buy an LSA can't sell his Bonanza. Until they get out from under, LSA sales to GA pilots will struggle."
Premier Flight Center (
www.premierflightct.com
) is a traditional FBO at Brainard Airport in Hartford, Conn. Gary Ciriello and wife Deb are the friendly folks who run the 19-year-old operation. Recently, Premier put a leaseback Flight Design CTLS on the flight line to join its fleet of six GA aircraft.
"In New England, 90% of our flight training calls are for traditional GA instruction," says Ciriello. "Of the calls for light sports, maybe one out of six are interested in getting their sport pilot certificate. The rest are mostly middle-aged and anticipating or already living with some kind of medical problem. To avoid being grounded, LSA is the answer.
"Most people I talk to don't think of LSA for training. I think it's a lack of general knowledge. 'Cessna' is still what people think of for lessons."
Another factor is the hourly cost of training, which at Premier is comparable to what it charges for its Cessna 172. The CTLS goes out at $113 per hour wet, and instructors get $70 hourly.
"We charge more for our CFIs because, with the complex avionics suite, we consider it a technically advanced airplane. Plus it's brand new. I think we have a way to go yet in all of GA," says Ciriello. "Eighty percent of the public is still afraid of flying. So I find we're educating much of the time.
Page 1 of 2