Tuesday, December 25, 2012
Light-Sport Chronicles: Sport-Pilot Survey Says!
Just how are we pilots doing our sport flying these days?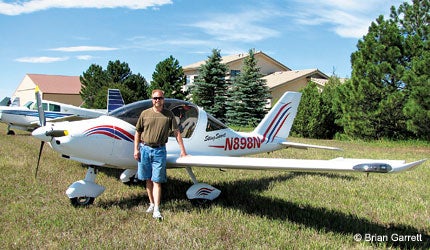 PARTNER UP.
Private pilot Brian Garrett rented during his training and now owns a Sting Sport LSA through a four-way partnership
Sometimes, I like to douse my assumptions and fantasies with a cup of cold, real-world info about the kinds of LSA flying all you folks are actually doing, versus what I might imagine you're doing. Here's a sampling from the responses of 15 pilots. When we run out of space, we'll carry over into subsequent columns.
Question 1:
Do you currently own or rent an LSA? Sole owner or partnership? If you rent, do you tend to rent the same LSA or a variety of models? From the same location/FBO or more than one?
Thomas W. Ivines
(private pilot license—PPL) of Port Charlotte, Fla., is sole owner of a certified, factory-built LSA (not identified): "I've never rented an LSA."
Tim Greer
(PPL) owns a 2006 Flight Design CTSW and is also a solo owner: "I am getting my sport-pilot (SPL) certificate. I fly a single-seat, high-drag, low- power airplane of wood construction. In most other countries, this would be an ultralight aircraft. All my friends fly this style of plane."
Harold Anthony Sweet
(SPL) says: "I will never, nor will any of my friends ever, be able to afford one of these. We all fly homebuilt airplanes, for they only cost materials to build. These are single-seat, high-drag, low-power airplanes. None of us will fly a passenger, nor ever take a trip farther than 50 miles from home."
C.Brian Kerr
(SPL) rents a Tecnam P92 Eaglet from FBO Chesapeake Sport Pilot (CSP) at his home field, Bay Bridge Airport in Maryland: "I tend to rent the same airplane—hey, I have two Eaglets—but I will be getting checked out in their Flight Design CT, Remos and Sky Arrow." Brian also trained at CSP.
Brian Garrett
(PPL) owns his LSA through a four-way partnership. "I rented during my training process, then purchased the only share available in a partnership in the only LSA in the surrounding area. I'm flying a StingSport; it's the only one in the region that I'm aware of."
Tom Grinolds
(SPL student) is close to his checkride: "I rent an Evektor from Acuwings in Renton, Wash."
Rob Finfrock
(SPL) rents a Remos GX (N28GX) from New Mexico Sport Aviation (NMSA) at Sante Fe Municipal Airport (KSAF) and writes, "It is the only aircraft the business owns, and the only LSA available for private rental within 150 miles of Albuquerque. NMSA operates much like a flying club, minus monthly dues. The Remos rents for $103/hour wet ($40 less than the least expensive C150 in Albuquerque) and all pilot-rated club members have a key for the airplane."
Sam Dollenmeier
(PPL) is the sole owner of a SportCruiser (N122YT), which he currently flies at Anderson Regional Airport in South Carolina (KAND). Steve Mink (SPL) owns a used Tecnam P2002 (used LSA are popping up everywhere). "It's a great plane, underrated. Excellent combo of speed, payload, range and handling."
Page 1 of 2