Tuesday, October 5, 2010
Light-Sport Chronicles: The Time Traveller
Languishing on the sidelines, an exciting S-LSA makes a comeback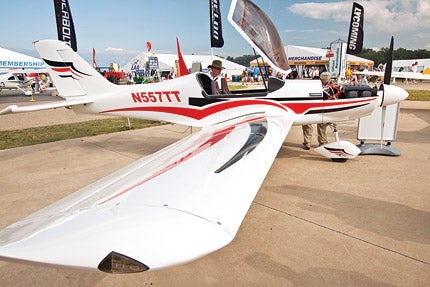 LYCOMING-POWERED LSA. The new Falcon LS from T&T Aviation is powered by a 115-hp IO-233-LSA.
Writing for a major aviation publication like
Plane & Pilot
feels sometimes like being a time traveller. I'm thinking, in particular, of the moment the fictional hero of H.G. Wells' classic novel
The Time Machine
first watches the sun, then the seasons, then the aeons fly by as he hurtles ever faster into the future. At times, I feel the same exhilaration/dread that my Wellsian counterpart felt when I meet, greet, then too soon, must say farewell to airplanes, designers, manufacturers and dealers. Some have been in the game quite awhile and will hang in for the long haul. But others come and go like the lightning-fast scenery changes the Time Traveller saw...and it can be a bit jarring.
Currently, 109 LSA designs have won ASTM certification. Even in a robust and thriving economic environment, many of these designs, and the companies of people that come with them, would never sell enough copies to bring a return on investment to their backers. Given the gelified nature of today's market in new and used LSA, I wonder at times how so many LSA enterprises manage to even keep the hangar doors open.
Yet, like the Time Traveller, I must move like a ghost through this world. I fly, I investigate, I photograph, I write...but in the end, my task is to catch and convey, a sense of the whole unfolding landscape as it flashes by. So I admit to being surprised when I walked onto the big Lycoming display area at Oshkosh AirVenture last August. I had pointed my asphalt-melted sneakers toward the new IO-233-LSA engine. But my path diverted. There, in full view of thousands of show goers, sat the low-riding, beautiful Falcon LS from Renegade Light Sport—one of the most aesthetically pleasing LSA I've seen.
Just as my fictional muse watched the walls of his own house crumble to dust around him as he raced through time in his amazing machine, so had I assumed the concrete prospects for a viable Falcon S-LSA had blown away on the winds of time. Then I met Christopher "Doc" Bailey, and my time machine jerked to a sudden stop. Because, thanks to Doc and his backers, the Falcon LS seems poised to perform its own version of
Back to the Future
.
First, some background on this former air show wallflower. My introduction to the Falcon LS came in early 2008. It was a standout, and not only for the Lycoming IO-235, 116 hp engine that, at the time, made it the only "conventionally" powered S-LSA (Cessna's SkyCatcher with the Lycoming O-200 wasn't yet out). The other factor was its sleek styling: It looked like a Red Bull race plane. No coincidence there: Its makers, Corvus Aircraft of Hungary, built the Racer 540, which pilot Peter Bensenyei flies in Red Bull Air Races.
T&T Aviation, run by Tom Pizzuti and Tamas Becse, first brought the airplane to the U.S. market. Dubbed the
Phantom
back then, it seemed a natural to win the hearts and minds of GA pilots with its 119-knot cruise...and its Lycoming engine. Along the way, the sleek fly-about became number 82 on the ASTM-certified S-LSA list, sporting a new name: Falcon LS.
Page 1 of 2