Tuesday, July 31, 2012
Lindbergh Inspiration
Balancing nature and technology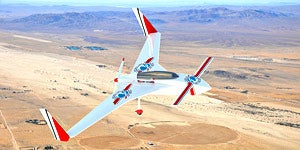 Chip Yates is planning to replicate Charles Lindbergh's 1927 New York-to-Paris flight in the world's most powerful electric aircraft—a 258 hp Long EZ with all kinds of innovative systems, including a Kinetic Energy Recovery System. Yates will make world-record attempts for fastest speed and highest altitude for manned all-electric airplanes.
Since the Lindbergh Foundation was formed in 1977, numerous noteworthy individuals have served tirelessly to further the causes the organization supports. Bob Hoover, Sean Tucker and Patty Wagstaff, all Hall of Fame air-show pilots, John and Martha King of Kings Schools, and Larry Williams, CEO of BRS Parachutes, have served on the board. To date, the foundation has granted over three million dollars to some 300 men and women in support of their work.
LEAP, EADA And The Aviation Green Alliance
During a post-event interview, Erik Lindbergh spoke about his desire for advancing technology and preserving the environment, and how he's continuing the legacy his grandfather started through the foundation. Erik's passion for electric flight has spawned the founding of the Lindbergh Electric Aircraft Prize (LEAP), and the Electric Aircraft Development Alliance (EADA).
Erik founded LEAP with the goal of advancing electric flight through prize philanthropy. LEAP presents awards biannually at Aero- Friedrichshafen and EAA AirVenture. To date, they've presented nine awards in categories such as best electric airplane, best propulsion system and an outstanding achievement award.

Electric propulsion is the future of flight.
—Erik Lindbergh

Through his involvement in electric flight, Erik recognized a need for an industry alliance and founded Electric Aircraft Development Alliance (EADA). The mission of EADA is to provide an industry voice that advocates and educates regulatory bodies worldwide. Since its founding, EADA has merged with the Lindbergh Foundation and the Aviation Green Alliance.
Erik contends that the barriers today are energy and regulations governing the use of that energy: "It is EADA's job to identify the biggest threats to the industry and proactively solve the issues." Recently, EADA helped the industry by lobbying to prevent proposed ITAR restrictions on 28-volt batteries that would have been crippling to the advancement of electric flight.
Page 2 of 3