Tuesday, July 31, 2012
Lindbergh Inspiration
Balancing nature and technology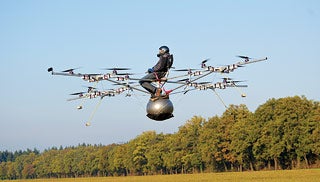 Volo was awarded the Lindbergh Prize for innovation at Aero-Friedrichshafen this April for their pioneering flight in the VC1, an electric multi-rotor vertical-takeoff and -landing aircraft. The ascending force, as well as the stability in the air, come from its 16 propellers. With its four arms, it measures approximately 17x17 feet and has an empty weight of around 80 kg including the batteries.
Erik cited the success of companies like e-volo and the giant strides forward that have been made in just the past few years. He envisions a "Jetsons-like future flying quietly out of our backyards, revolutionizing the way we move around the planet."
The Aviation Green Alliance, part of the Lindbergh Foundation, is a forum for everyone to come together and share ideas and issues within the industry. The Alliance helps set and influence policies related to environmental standards that impact the aviation industry. It isn't limited to large manufacturers and donors—anyone can join the organization, with membership levels starting at $55 annually.
Looking Ahead
Larry Williams, Lindbergh Foundation CEO, said that one of the main goals going forward is to tell the general public about the strides the aviation industry as a whole has taken to protect our environment: "The Lindbergh Foundation can speak in a secular way about the aviation industry as a whole."
He stated that most manufacturers have environmentally friendly production facilities, environmental statements and the works. But the aviation industry is rarely recognized for this, in large part, because no one talks about it.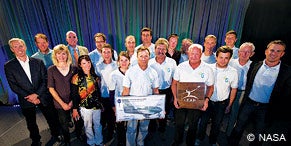 The Lindbergh Prize for Quietest Aircraft was awarded to e-Genius at NASA Ames as part of the NASA Green Flight Challenge in November 2011.
Williams also emphasized that the Foundation provides ways for everyone to get involved and participate in the advancement of technology while preserving our environment. Thirty-five years ago, when the Lindbergh Foundation was formed, the most common aircraft was the Boeing 707 or Douglas DC-8. When compared to today's Boeing 787, we've achieved a 40% reduction in fuel burn, along with drastic reductions in noise, manufacturing practices and the like. Without a doubt, the inspiration that Charles Lindbergh provided played a key role in these advancements.
The legacy of Lindbergh is still vibrant and evident in the recent announcement by Chip Yates and his company, Flight of the Century. It seems that Charles Lindbergh created the holy grail of flight achievement—a benchmark that must be met to legitimize a new technology—and Yates is attempting to fly nonstop from New York to Paris in an electric aircraft. Stay posted at
www.flightofthecentury.com
, and visit
www.lindberghfoundation.org
for more information on the Lindbergh Foundation.
Page 3 of 3