Tuesday, October 4, 2011
100 Years Of Naval Aviation
Part I: The West Coast's only strike-fighter wing, Naval Air Station Lemoore, trains F/A-18 pilots for the runway at sea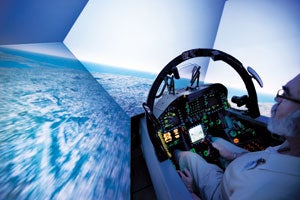 2
F/A-18 Simulator
After launching from MCAS Miramar, Plane & Pilot Publisher Mike McMann flies a high-speed pass over the San Diego area. F/A-18 pilots in training at NAS Lemoore will spend 12 hours with an aircrew instructor in a simulator before their first flight in the real aircraft.
In real life, an F/A-18 pilot recovering onto a carrier relies upon a landing signal officer (LSO) to monitor glideslope, airspeed and lineup during the approach. The LSO will transmit corrections on the radio, and use light signals on the Optical Landing System. During our day at Naval Air Station Lemoore, Plane & Pilot Publisher Mike McMann and I spend an hour in the LSO shack at the approach end of runway 32L. The 10 Hornet pilots in the pattern have reached the end of their eight-month training course, and are in the Carrier Qualification Phase, working on field-carrier landing practice. If they perform up to par, they'll receive carrier qualification and be assigned to fleet squadrons.
Lieutenant Brant "Winthorp" Gresham, who's performing LSO duties, has something to say to everyone. "Too much power, come back on power." "Too high." "Too long." "Not enough power, add more power." He even waves a few passes off with red flashing lights. If that seems harsh for a group of naval aviators who are just two weeks away from the "runway at sea," that's because it has to be. On the open sea, landing on a carrier populated with thousands of people, there's no room for error. "Ninety-nine percent of the time, the LSO is going to have a comment," Winthorp explains. "We call a really good pass an 'okay' pass."
Central California's NAS Lemoore (
cnic.navy.mil/lemoore
) is home to the U.S. Navy's entire West Coast fighter/attack capability, including Strike Fighter Wing Pacific and its squadrons. Our host is Strike Fighter Squadron "One Two Two," also known as the Flying Eagles as well as VFA-122 (
http://www.vfa122.navy.mil/
). There are approximately 100 aircraft in VFA-122. The squadron consists of 1,200 personnel, of which 100 are staff officers (75 of those being aircrew instructors), 200 students, 600 maintainers and 300 civilians. Its mission is to provide maintenance and flight instruction for fleet-replacement squadron training. Additional responsibilities include transition training and refresher training.
Naval aviators are known for being highly skilled and accomplished. Astronauts John Glenn and Neil Armstrong were both naval aviators. The U.S. Navy Flight Demonstration Squadron, the Blue Angels, thrills millions of fans each year with its unfathomably tight formations and high-performance aerobatics. In the second part of
Plane & Pilot
's Naval Aviation series, we'll go behind the scenes with the Blues during their winter training at Naval Air Facility El Centro.
Page 2 of 2