Tuesday, September 6, 2011
30 Ways To Make Your Pilot Certificate Sizzle
Stretch your wings with these ideas to put excitement and challenge into your flying
I'm still amazed when I land. I sometimes sit in the cockpit, as the gyros wind down and the prop clicks to a stop, and wonder at the magic of it all. Minutes ago I was flying, looking down from over a mile high, screaming along at a hundred miles an hour, going in any direction I chose. I landed this machine safely, putting 2,000 pounds of metal and moving parts on a 50-foot-wide ribbon of pavement with barely a chirp. I did something that less than two-tenths of one percent of the U.S. population can do: Fly an airplane. How amazing that the little plastic card in my wallet that says "private pilot" grants me this freedom and wonder.
But it's easy to forget that the private certificate is simply what everybody says it is: a license to learn. It's the federal government telling us our skills are just good enough to not pose a danger to others when we fly. The day we pass our checkride, we're covered only with the downy feathers of a bird just leaving its nest—hardly the steely-eyed aviators of legend. But, our certificate is also the key that unlocks the door to adventures and experiences few will ever have. All it requires is for us to reach beyond our comfort zone of weekend $100 hamburgers and rides around the patch. So if you're ready to make your certificate "sizzle" a little, and experience something new and different, here are a few ideas to get you started.
1
]
Camp At Tieton.
One of the true joys in flying is making a long cross-country to a picturesque destination, pitching a small tent and sleeping under the wing of your airplane. Tieton State Airport (4S6) sits on the placid shores of Rimrock Lake, about 30 miles northwest of Yakima, Wash. An interesting quirk of Tieton is that its grass strip was recently resurfaced with six inches of ash from Mount St. Helens.
2
]
Fly Below Sea Level.
There are times when it's good that your altimeter passes below zero while you're in the airplane. At an elevation of 200 feet below sea level, Death Valley's Furnace Creek Airport is an unusual and beautiful resort. With handsome Spanish-style accommodations, and golf and bike rentals, Furnace Creek is a fantastic GA destination quite different from the norm. Oh, and the Sunday brunch is legendary. Visit
www.furnacecreekresort.com
.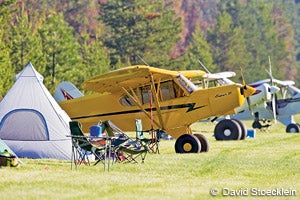 1

Camp Under Your Wing
3
]
Dine Inside A Tanker
. Fly into Colo-rado Springs Municipal Airport (COS) and stop at this nearby pilot-friendly eatery. Solo's Restaurant (also called "The Airplane Restaurant") is built into a fully intact Boeing KC-97 tanker in original USAF colors. This KC-97 was an active-duty refueling aircraft used since 1953, and retired in 2002 to start its second life as a restaurant. Visit
www.solosrestaurant.com
.
4
]
Turn Your Passion Into Photos
. Flying is an endeavor that's classically suited to photography. Since so few people have seen our world from the perch of a low-'n-slow GA airplane, the resulting vistas are unique and beautiful. The International Society of Aviation Photographers offers a variety of resources at
www.aviationphotographers.org
.
5
]
Fly The Bahamas.
More pilots are discovering the hidden paradise awaiting them on the islands of the Bahamas. There are 20 airports of entry scattered among some 700 islands there, giving pilots enough places to explore to last a lifetime. Many pilots don't realize that both Bimini and Grand Bahama Islands are only 60 nm away from Fort Lauderdale. For pilots wanting to do their own planning,
www.bahamasaviator.com
is a great resource. Fully escorted flying tours also are available from Caribbean Sky Tours at
www.caribbeanskytours.com
.
6
]
Donate Your Services
. There's no better feeling than knowing you helped another person—or in this case, animal— through your skills as a pilot. Pilot N Paws is an organization that coordinates general aviation pilots willing to donate their services with animals that need transportation for rescue, relocation or medical reasons. The entire organization is self-run to make it as flexible as possible for volunteer pilots. Visit
www.pilotsnpaws.org
.
Page 1 of 4
Labels:
Aviation History
,
Aviation News
,
Cross-Country Travel
,
Features
,
Floatplanes
,
People and Places
,
Photography
,
Pilot Guide
,
Pilot Resources
,
Aviation Photography
,
Air Shows
,
Backcountry Flying
,
Adventure Aircraft
,
Aircraft Ownership