Tuesday, September 6, 2011
30 Ways To Make Your Pilot Certificate Sizzle
Stretch your wings with these ideas to put excitement and challenge into your flying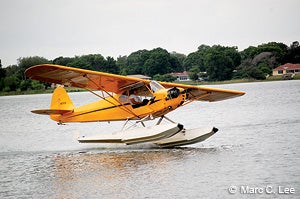 8

Get A Seaplane Rating
7
]
Make A Real Cross-Country.
The Rinker Buck book Flight of Passage ignited the passions of pilots everywhere, inspiring them with the desire to fly across this grand nation of ours. Many have done just that, experiencing the true soul of aviation: grass strips, old-fashioned airports and a once-in-a-lifetime adventure seeing our country from the air. In addition to Buck's now-classic book, Maria Gosnell wrote about her solo flights across the nation in her book Zero 3 Bravo, and Ann Hopkins writes about her exploits flying an old biplane around the country in Sticks & Wires & Cloth.
8
]
Get A Seaplane Rating.
Flying a seaplane is one of the most amazing experiences in aviation. And if you love Piper Cubs as most of us do, you can combine the two into the perfect weekend. Jack's Seaplane Base in Winter Haven, Fla., offers single-engine seaplane ratings in their all-original Piper Cubs on floats. This is flying at its best! Visit
www.gate.net/~seaplane
.
9
]
Become A YouTube Star
. Pilots love to share what they know and what they see. Technology has made it easier than ever to share your flying with the whole world. Mount the tiny, 4.5-ounce ContourHD helmet cam anywhere on you or your airplane, and capture 1080p, high-def video with a 135-degree view. Light Sport Group makes a version that captures audio from your aircraft's intercom. Visit
www.lightsportgroup.com
.
10
]
Go Soaring.
If you've never flown a glider (also called a "sailplane"), you're missing one of the most sublime experiences in aviation. The Southern California Soaring Academy, operating at Crystalaire Airport (46CN) in Llano, Calif., offers basic lessons, advanced instruction and aerobatic training. Visit
www.soaringacademy.org
and
www.ssa.org
.
11
]
Get Formation Certified.
Each year, pilots get killed attempting to fly formation with no training. Formation training is fun and rewarding, and opens you up to ground flying, air-to-air photo missions and much more. Do it right and get certified instruction. The Formation and Safety Team (F.A.S.T.) offers certification. Visit
www.flyfast.org
.
12
]
Write A Book
. Aviation has no shortage of great authors, and we never tire of reading about flying. Perhaps you can be the next Gann or Bach? Today's technology has allowed many pilots to self-publish their books to great success. Amazon's "CreateSpace" service has all the features you need to launch your aviation writer's career, and it's free. Visit
www.createspace.com
.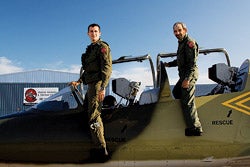 13

Fly An L-39!
13
]
Fly An L-39!
If you're a fighter pilot at heart, Gauntlet Warbirds in Chicago offers warbird and jet training, including the agile and sleek Aero Vodochody L-39 Albatros. Piloting one of these beasts is an experience that's not easily forgotten, with many pilots going on to become warbird or jet owners. Visit
www.gauntletwarbirds.com
.
14
]
Join The Civil Air Patrol.
As an official auxiliary of the U.S. Air Force, the Civil Air Patrol (CAP) has plenty of opportunities for licensed pilots. With the largest fleet of single-engine piston aircraft in the nation (mostly Cessna 172s and 182s), CAP pilots fly those planes to perform CAP missions in service to their local communities, including search and rescue, cadet training and more. The CAP is one of aviation's best-kept secrets among pilots. Visit
www.gocivilairpatrol.com
.
15
]
Become An Aircraft Owner.
LetsFly introduces an interesting business model: low-cost, part ownership in a small GA airplane. With an initial investment of less than $5,000 and equally low monthly payments, nearly anyone can own a plane. To make it even more interesting, they specialize in the Legend Cub. Visit
www.letsfly.org
.
Page 2 of 4
Labels:
Aviation History
,
Aviation News
,
Cross-Country Travel
,
Features
,
Floatplanes
,
People and Places
,
Photography
,
Pilot Guide
,
Pilot Resources
,
Aviation Photography
,
Air Shows
,
Backcountry Flying
,
Adventure Aircraft
,
Aircraft Ownership