Tuesday, September 6, 2011
30 Ways To Make Your Pilot Certificate Sizzle
Stretch your wings with these ideas to put excitement and challenge into your flying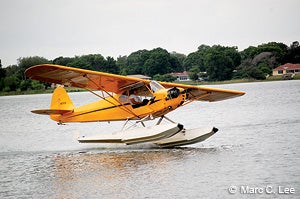 27

Explore The Backcountry
Training in the backcountry is exhilarating and will improve your stick-and-rudder skills.
24
]
Discover The Cradle Of Aviation Museum.
Our country boasts more than 100 top-notch air/space museums. Though it's hard to pick a favorite, Cradle of Aviation on Long Island in New York is one of the nation's best. It's one of the only museums to encompass a complete history of aviation from 1900 through today. Long Island played a big part in aviation history as the site of many historic flights, and this museum is a part of that. It's also one of the only museums to house an actual lunar module (from Apollo 19). Visit
www.cradleofaviation.org
.
25
]
Pilot A Zeppelin.
When you're ready for one of the most relaxing and rewarding experiences as a pilot, try an airship. In this case, it's a true zeppelin, built by the Zeppelin company in Friedrichshafen, Germany. Currently, there are only two of the 246-foot-long behemoths flying in the world. The pilot experience includes a two-day course out of Moffett Field in Northern California, and at least 30 minutes of left-seat stick time. Visit
www.airshipventures.com
.
26
]
Sleep In A 727.
Costa Verde, a beautiful spot in the coastal jungle of Costa Rica, features a hotel that was converted from a fully intact 727 airliner from 1965. The plane's interior was completely redone with hand-carved teak and native materials, and the entire fuselage was hoisted onto a 50-foot perch and built into the trees. The effect is an aerie from which you can see the ocean and beaches of Manuel Antonio below. The two-bedroom suite's neighbors include sloths, monkeys and toucans. Visit
www.costaverde.com/727.html
.
27
]
Explore The Backcountry.
McCall Mountain Flying is a well-known backcountry training facility that offers specialized courses of mountain flying and specialized mountain instruction, all of it in an environment of picturesque valleys, river gorges and vast swaths of postcard wilderness that will take your breath away. Visit
www.mountaincanyonflying.com
.
28
]
Tour A Boneyard
. Known officially as the Aerospace Maintenance and Regeneration Center (AMARC), pilots know it as "the Boneyard." Located on part of Davis-Monthan Air Force Base, the AMARC houses some 4,400 military aircraft and 13 aerospace vehicles on a giant patch of desert land. The ultradry air, soil composition and weather patterns allow aircraft to be stored there indefinitely and brought back into service as needed. The Pima Air Museum runs tours of AMARC. Visit
www.pimaair.org
.
29
]
Spin Around.
Rich Stowell wrote the book on spin training. Actually, he wrote two: "Stall/Spin Awareness" and "Emergency Maneuvers Training." He stands as one of the industry's experts on the subject, and is helping to reform flight training today. Spin training will make you a better, safer pilot. Stowell offers several modules of upset training in both Idaho and California. Visit
www.richstowell.com
.
30
]
Feast On Ribs.
If you haven't been to JP's Ribs in the 40 years they've been in business, you've missed true barbeque pleasure. Sitting smack-dab on Bolton Field Airport (TZR) near Columbus, Ohio, JP's Ribs does it right. Fly in and say hi to JP's mascot, a pitbull named "Bernardo." Visit
www.jpsbbq.com
.
Aviation has its share of innovation, and enthusiastic members constantly come up with exciting things to do as a pilot. And services like Skype, YouTube and Facebook allow us to share our adventures with our friends and family. Back in the day, we were limited by distances and local knowledge; today we're limited only by our imagination. So use these ideas to spark your own creativity, and take the next step in your aviation journey.
Page 4 of 4
Labels:
Aviation History
,
Aviation News
,
Cross-Country Travel
,
Features
,
Floatplanes
,
People and Places
,
Photography
,
Pilot Guide
,
Pilot Resources
,
Aviation Photography
,
Air Shows
,
Backcountry Flying
,
Adventure Aircraft
,
Aircraft Ownership