Wednesday, July 24, 2013
A Visit With Richard Bach
The author of Jonathan Livingston Seagull shares his love of flying
You couldn't do the same thing on a motorcycle. If you took your Harley Davidson and decided you were going to sleep in a field, the farmer would probably be distressed. But a Piper Cub has charm and is understandable. "I'm making an odyssey across this beautiful land of ours, sir. And I saw your lovely field and I saw that you just cut your hay so I'm not hurting money crop. I wonder if it would be okay with you if I stay here; I'll be gone by dawn." They'll look at you, smile and say, "Sure."

For most gulls, it is not flying that matters, but eating. For this gull, though, it was not eating that mattered, but flight. More than anything else, Jonathan Livingston Seagull loved to fly.

—Jonathan Livingston Seagull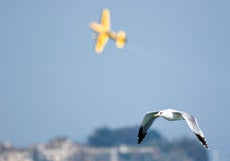 A Cub is nonthreatening. How does it cool its engine? Well, it sticks its little cylinders out in the air! How do you start it? You turn the propeller by hand. Kids touch the airplane and say, "It's cloth!" The reactions to an airplane in a town that doesn't have an airport are lovely. It's a moment of passage when passengers lift out of the hay field and they see the horizon and look down at the water tower. My biplane had room for two passengers in the front. I could tell they were always scared because I'd see white claws holding onto the cockpit, squishing the leather as we bumped over the not-so-smooth ground, and they thought, "Is this the last minute of my life?" Then you push the throttle forward, and it gets louder and bumpier and crashier, but then all of a sudden, it goes smooth. The ground goes away, and they relax. And they look back and give you a big smile and the wind's tearing their hair into knots and we'll circle over their farm and someone will come out on the porch and wave. It's traveling back in time along a soft emerald road in which we don't live in fear.
Page 3 of 4