Tuesday, January 24, 2012
Amelia Earhart: A Modern Adventure
Seventy-five years on, a modern-day Earhart retraces the footsteps of a legend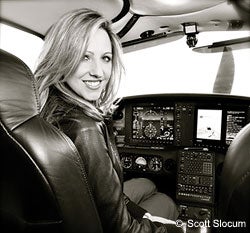 Amelia Rose Earhart in the cockpit of a Cirrus SR22T at a stop on her Oakland, Calif., to Miami, Fla., flight, re-creating the North American leg of the original Amelia's flight around the world.
Oakland To Miami
Earhart is making this first flight with her instructor, John Post. Post offers instrument training at Independence Aviation at Centennial Airport in Colorado. In addition to the adventure aspect of this flight, Earhart is using it as the culmination of her instrument training (for the cross-country hours), and will take the checkride shortly after. She wisely used this flight as a purpose for her training. "Having a goal like this was more fun than if I'd just flown out of Centennial every day," she explains.
Our
Plane & Pilot
team caught up with Earhart and Post (no relation to Wiley) during the Burbank, Calif., stop of their Oakland-Miami odyssey. Burbank holds a special place in Earhart lore, since it's where she trained and where many of her flights originated. The city is full of statues, streets and plaques commemorating her accomplishments. The telegenic Earhart says she feels at home here, having lived in an apartment just across the street from the airport for a time while she worked in Los Angeles. It's a homecoming of sorts with Earhart's mother joining her for dinner in Burbank. About her mom, Earhart writes in her blog, "Thanks for instilling in me the desire to soar."
The gleaming Cirrus SR22, donated for the flight by a private owner, sits parked outside the Million Air FBO. Nflightcam, the company that modifies the popular Contour helmet camera for aviation use, is donating some of the fuel costs, and instructor Post is donating his time, while thousands of people are following along via Earhart's blog,
www.flywithamelia.wordpress.com
.
Earhart is philosophical about her flight and its adventures. On leaving Burbank Airport, she wrote on her blog, "I would say I feel lucky, but that would be a lie. I feel in control, smart and focused on completing this goal, enjoying each and every takeoff, landing, heading change and altimeter setting." By the time she lands in Miami, Earhart will have done several photo shoots, live television, celebration dinners and long flight legs in the SR22.

My mom gave me this name because she wanted
me to have a positive woman role model in my life,
says Earhart about her moniker. She and the legendary
Earhart share common ancestry on her father's
side back in the 1700s.

More than just motivation, Earhart sees this flight—and the ones to come—as having a huge educational component. "I see students being able to participate in my flights," she muses, "tracking us live online, following weather, tracking physiology, even looking in on the cockpit."
Sitting quietly on the overstuffed couch in the FBO lobby, Amelia Rose Earhart looks away when I ask her what she hopes to gain from this first flight. I can see her sifting words through her mind as she answers. "Maybe somebody will get inspired to get current," she says, "or maybe someone will want to follow a dream—whether it's flying or not." We end our conversation with today's Earhart quoting yesterday's: "Adventure is worthwhile in itself."
Page 2 of 3