Tuesday, June 24, 2014
Around The World
Air Journey escorts pilots on worldwide flying adventures for a high-end, hassle-free experience
Inside the fortified walls of Old Québec looms Château Frontenac, towering over narrow cobblestone streets and the immense St. Lawrence River. The historic grand hotel opened in 1893 to help promote luxury tourism. As such, it's the perfect launching spot for Air Journey's transatlantic flying trips. And this is the mother of all trips. Over 76 days, five airplanes will travel 25,000 nautical miles to 36 destinations in 27 countries, circling the globe.
Upon check-in at the hotel, I'm greeted by a travel-themed array of chocolates, and a manager presents me with a limited-edition key made from a piece of the building's original copper roof. These small touches are a precursor of what's to come, setting the stage for what Air Journey does best: first-class service.
At 4:00 p.m., our group meets in a private conference room for a briefing session led by Air Journey owner Thierry Pouille and Director of Flight Operations, Guillaume "G" Fabry. G is here to prep the trip and then will go to the Eclipse Jet Owners convention in Texas. Materials at the brief include in-depth cultural, historical and political information about each destination, and a detailed itinerary for each stop. Each aircraft owner also receives a customized set of pre-prepared flight plans. Special items, such as bright-yellow safety vests and official crew badges, are handed out. Focus is on safety, and a discussion ensues on the pros and cons of wearing immersion suits during the ocean crossings.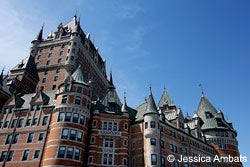 Chateau Frontenac in Quebec, Canada.
G's brief of the first leg tomorrow morning from Jean Lesage International Airport to Kuujjuaq, Canada, includes airport diagrams and photos, so that pilots can visualize what the approaches will look like. Files are downloaded from G's computer directly to iPads via an app called AirStash, allowing everyone to always have the latest documents and weather charts.
Headquartered in Jupiter, Fla., Air Journey has been leading flying journeys for more than 15 years worldwide. Clients can opt for an escorted trip, like this one, where a member of the Air Journey team flies with them. Or they can use the concierge service, traveling on their own but under the watchful eye of Air Journey, which coordinates all logistics remotely, based on a pre-arranged custom itinerary. Either way, every detail of the trip is taken care of, including flight plans, customs documents, landing permits, hotel reservations and anything else that's required. If you happen to goof something up, like misplace your passport, Air Journey will solve the problem. It isn't unheard of for G to be in the office and receive a message from Thierry: "I need you to fly to Dubai. This afternoon!"
If circumnavigating the globe is too daunting or out of financial reach, there are other options to fit a range of budgets and schedules. Full concierge service for the Bahamas starts at $395, and you can even do it in a rental plane. Ben Marcus spent a weekend exploring the islands with his wife in a Cirrus SR22. "Thierry and his team took great care of us," says Ben. "They made our short trip totally easy and worry-free."


LEFT TO RIGHT: Restaurant Roklubben in Kangerlussuaq, Greenland. Strokkur geyser. the Mid-Atlantic Ridge on the Ring Road in Iceland.
Page 1 of 5