Tuesday, June 24, 2014
Around The World
Air Journey escorts pilots on worldwide flying adventures for a high-end, hassle-free experience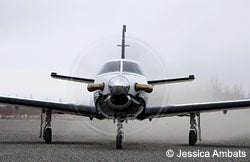 David Schlacter taxis on the ramp at Kuujjuaq.
On group trips, Thierry will typically depart first. This allows him to relay weather reports en route to the others on a discrete frequency. Upon his early arrival at the next destination, he can begin the fueling process and take care of any necessary paperwork to make the arrivals seamless for everyone. The departure sequence of the remaining planes is largely determined by what altitudes they'll fly at. They need to be spaced accordingly, so no one will be kept lower than desired. Thierry's daughter, Anais, will often airline a day in advance to the next location and prepare everything to the point that she'll hand hotel room keys to clients as they step off their plane.
We load bags on the wet ramp, and G waves us off. After our departure, he visits the control tower to snap a photo of the radar screen showing all of the planes together. It's a nice memento of the beginning of an ambitious endeavor, and yet another small touch that Air Journey adds to the experience.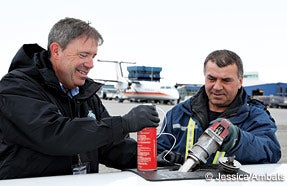 Bill Hettinger adds his own Prist while fueling at Kuujjuaq.
Almost immediately, we're in the clouds. We break out on our climb to FL 370. It's a straightforward flight, and when the ground appears on descent, we're suddenly in a new world, where bright snow is contrasted against dark green pine trees. As we approach the Koksoak River, there's a sense of familiarity and ease, having reviewed the photos during the pilot brief the day prior.
Shortly after we land, Bill and Corinna arrive, followed by the others. Thierry already has the fuel truck at work, has discussed weather for the next leg with the home office and is at the door of each plane to greet everyone with a smile. There's a heightened sense of excitement having completed the first leg of the big adventure. Although we've only flown 750 nm (24,250 more to go on the trip!), the Air Inuit Dash-8 aircraft on the ramp and the wintery atmosphere make it seem like we've come much farther. The adventure has begun.
Across The Pond
The next leg is our first ocean crossing, another 750 nm from Kuujjuaq to Kangerlussuaq, a former U.S. military base tucked into a remote fjord on the western coast of Greenland. It would be a shorter distance to fly to Narsarsuaq, on the southern tip, but that course could overlap with airliner routes, and potential separation conflicts could prevent climbs. So, Thierry has made the prudent decision to head up the craggy coast.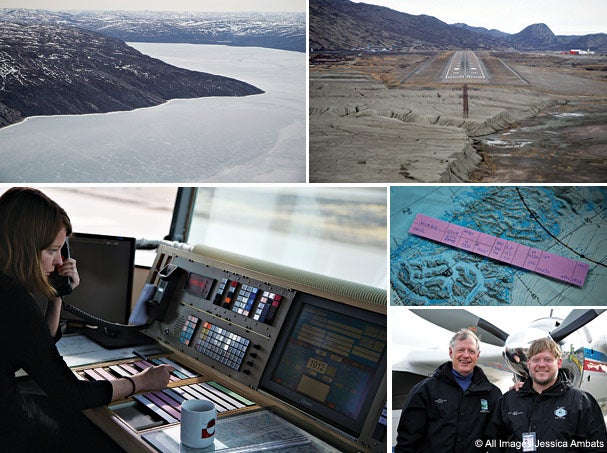 CLOCKWISE FROM TOP LEFT: Frozen lakes in the Sondrestrom Fjord. On final to runway 09 at Kangerlussuaq. The ATC strip for N15GJ. Father-son team Brad and Scott Howard. In the tower cab at Kangerlussuaq.
Page 3 of 5