Tuesday, April 9, 2013
Big South Fork Airpark
We came in search of an ideal airplane for the residential airpark lifestyle and found an ideal residential airpark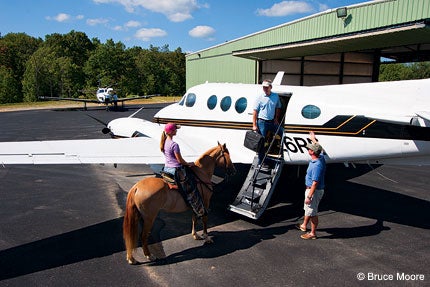 The airpark has an equestrian center with Paso Fino horses for residents to ride on 200 miles of horse trails lacing the Big South Fork Recreational Area.
Big South Fork Airpark (BSFA) in Onieda, Tenn., hosted
P&P
during our recent field evaluations of a trio of candidate aircraft for the title of Best Residential Airpark Airplane (RAA): the twin-engine Piper Seneca V [March 2013], Daher-Socata's turboprop single TBM 850 Elite, and Tecnam's P2010 light-sport aircraft. Of course, labeling an airplane or airpark as ideal is a subjective judgment, given the range of needs people have for both habitation and transportation. Fortunately, with more than 625 runway-anchored communities listed on the registry of the Living With Your Plane organization and a variety of aircraft well suited to almost any GA pilot's mission, there are no shortage of choices in either department.
BSFA, which began selling lots in 2008, has several attributes that many pilots and homeowners would likely agree put it in the ideal category. It borders the Big South Fork National Recreation Area, a 125,000-acre playground atop the scenic Cumberland Plateau. The 450-acre airpark's home sites are large and richly forested, ensuring privacy, and residents enjoy through-the-fence access to Scott County Municipal Airport's (KSCX) 5,500-foot runway, repair station and some of the lowest avgas prices in the region.
"Our vision has always been in developing an environment where you can come and relax in the wilderness, enjoy the nature and outdoor activities, have access to the world-class airport we have, and not feel like you're living in an airpark," said Bill "B.A." Armstrong, one of the developers.
Some three-dozen current and future homeowners have bought into the vision thus far. "Demographic-wise, I like to call them 'soon to be retired,'" said Armstrong. "They're in their mid-to-late 50s, and they're putting the dream together now—buying the land, putting away for a home. They're not retired yet, but they like to use their homes on the weekend while they slowly transition into full retirement."
Over the course of a week at BSFA, we got to meet several property owners, soliciting their expert opinion on both airpark living and RAAs. Meeting them wasn't hard. Residents are friendly and sociable, and we were ensconced in the baronial welcome center, a large timber home that serves as the community's social center. Residents and prospective property buyers come and go throughout the day, and at night, they gather around a roaring fire in the large outdoor fireplace to chat and swap stories. Moreover, we were there during the weekend of the Scott County Airport's annual air show, an event that draws property owners from far and wide. Keith Petrie flew down with Becky Burris in his Beechcraft Bonanza from Sioux City, Iowa.
The 450-acre airpark borders 125,000 acres of the Big South Fork National Recreation Area. Most home sites are set on hillsides and built with wood, stone and other natural materials. More than 30 homeowners have purchased lots, which begin at $90,000.
"I had been researching airparks for a couple of years," Petrie told me. He was looking for a location somewhere between Tennessee and Georgia, "where I could get to in my airplane on one tank of fuel." He also wanted to avoid being near a large city with Class B or Class C airspace. BSFA "had everything I was looking for," the fast-food franchise owner said. "Oneida had a movie theater, a McDonald's and a Wal-Mart, and quite honestly, at my age that's all I need."
Page 1 of 3