Sunday, May 1, 2005
Burt Rutan
After drawing and building airplanes all his life, this genius' designs are getting out of this world
Burt earned a bachelor's degree in aeronautical engineering in 1965 from California Polytechnic University and went to work as a civilian flight-test engineer at Edwards Air Force Base, which is just down the road from Mojave Spaceport, er, Airport. He was there when the X-15, which inspired the naming of the X Prize, was doing tests that helped lay the foundation for the Mercury, Gemini and Apollo space programs. He conducted more than a dozen flight-test programs on military aircraft, like the F-4 Phantom.
In 1974, he founded his own aerospace company and became known for his fiberglass, radically designed experimental build-it-yourself aircraft, like the popular Long-EZ, which looks a lot like SpaceShipOne. He gave up dangerous test flights four years later.
"It was during a dive test in the Defiant [another of his award-winning designs] right after a friend of mine had been killed doing the same thing," recalls Burt. "I was going faster and faster, and I just thought, 'Why am I doing this?' From that time until 1996, I never flew a first flight, a dive test or a spin test, although I did some testing within the envelope. But then, when I built the Boomerang [a radical twin-engine design], I couldn't bring myself to have somebody else fly that on its first flight, and then later, I did the dive test on it."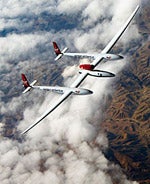 Yet another one of Burt's designs, the GlobalFlyer, completed the first nonstop solo circum- navigation around the world. This single-engine turbofan aircraft is the second generation of Rutan's Voyager.
His single-minded devotion cost him two marriages (he has two children from his first). He met his third wife, Tanya, on a blind date 17 years ago. She knew nothing about airplanes. Burt says, "I took her for a ride in the Defiant on our second date, and she just thought that it was a normal airplane."
Now, she's an expert and has even soloed, but she never got her license. "I've always liked people who work with their hands," she says. "He's an open person. He doesn't hold much back. He's funny and smart. He's an engineering genius, but he's a guy who can go out in the shop and make what he draws. I'm proud of him, but I've always known that he has been able to do these things."
They live in a pyramid-shaped house a few miles form the airport that was once featured on the cover of Popular Science. "It's so that I don't listen to the noise of the wind, and it's energy-efficient in the summer," shrugs Burt, who doesn't fly anymore since he had a defibrillator put in his heart two years ago and couldn't pass the FAA medical that pilots need to fly.
He set his sights on space in 1993 and will now devote the rest of his career to it. "The more I got into developing research airplanes, and some of them were pretty high-performance—one had the longest range in the world, the Voyager, and one had altitude records, the Turbofan—I wasn't afraid to build a supersonic airplane like I would have been when I was doing just light airplanes. Once I got to that point, I got fascinated by doing it."
That was also around the time he met Peter Diamandis, a 43-year-old Santa Monica, Calif., entrepreneur who came up with the idea of the Ansari X Prize (now named after the Ansari family, the Iranian-born telecommunication billionaires). "I was reading The Spirit of St. Louis, the book that Lindbergh wrote about his flight," says Diamandis. "He spoke about the early days of aviation and how there were dozens of prizes that were mostly put up by media companies that wanted news stories. By the time I had finished reading the book, the concept of the X Prize had come into my mind."
His hopes to foster a new industry seem to be coming true. "One of my personal goals is to go up myself, but beyond that, I hope to foster a new era in commercial space flight. There were many people like me helping to get the first airlines going. I'm tired of waiting for the government to do it, but then, I concluded that it's not the government's job to do it. It's my calling in life. It's what drives me every day. It's why I'm on the planet—trying to find a way to get off it."
Page 3 of 3