Tuesday, July 28, 2009
¡Chile Lindo!
Tour Aviation Chile guides pilots through a stunning slice of South America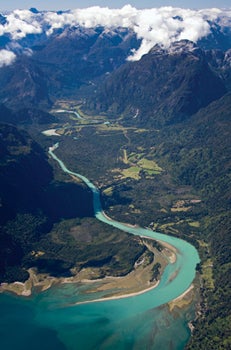 Take the best nature has to offer: sandy beaches, snowy mountains, deep blue lakes, smoking volcanoes, glaciers, fjords, waterfalls, archipelagos, geysers, salt plains, hot springs—you name it—and mix in delicious seafood, lush vineyards, warm hospitality and 350 airports, and you've got Chile.
To get to Chile, pack your passport, and any one of numerous airliners will take you to Arturo Merino Benítez, the international airport on the outskirts of the country's bustling capital, Santiago. But to really get to Chile, head to the serene, tree-lined neighborhood of La Reina, at the base of the colossal Andes mountain range. There, at Santiago's largest GA airport, Aeródromo Eulogio Sánchez Errázuriz (better known as "Tobalaba"), is a gateway to an insider's view of the South American wonderland: Tour Aviation Chile.
Founded by Jaime Hernández, Tour Aviation Chile offers los aviadores access to the country's dramatic beauty and inner culture through customized self-fly tours. More than 75% of the country's runways are unpaved, and although these grass, dirt and gravel strips are often off the beaten path, they're well traveled by Jaime and his team of experienced pilots.
"Our mission is to give an amazing flying experience to our customers, showing them the best of our great country, with high safety standards in all of our operations," says Jaime, who has logged more than 5,000 hours of flight time. "For us, it's a big pleasure taking pilots on tours, and we have always received very good feedback. But an even bigger pleasure is establishing friendships with aviators all around the world. This is an enormous satisfaction!"




Pumalin Park, a dramatic area of southern Chile belonging to environmentalist Douglas Tompkins (cofounder of The North Face and Esprit), is home to Vodudahue Valley ("devil's corner"). A 1,600-foot grass strip sits within a narrow valley shrouded by the Andes.
Tours can be as structured or as spontaneous as a customer prefers. In a choice of Cessna 172, 182 or 210 or Piper Cheyenne, visiting pilots fly from the left seat, accompanied by a guide who handles all details and logistics, including lodging, meals and ground-based activities. Assistance is provided with flying regulations, navigation and radio communications, as needed. And those looking to improve their flying skills couldn't ask for a better classroom: mountain navigation, short- and soft-field takeoffs and landings, and high-altitude operations are part of the daily flying repertoire. ¡Que bueno!
Page 1 of 4