Tuesday, April 20, 2010
Cowboys & Angels
In Haiti, general aviation pilots are making a measurable difference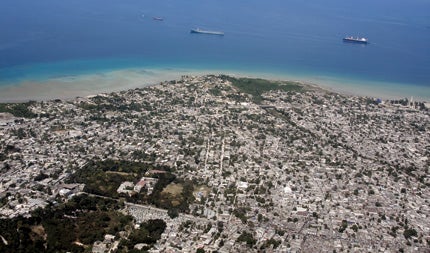 The 7.0-magnitude earthquake on January 12 had an epicenter near Port-au-Prince
As we approach from the north, over the deep lapis Caribbean Sea that surrounds a crescent shore, Haiti suddenly appears. At 4:53 p.m. on January 12, 2010, a devastating 7.0-magnitude earthquake struck this country. It's estimated that some 210,000 people died in the temblor. The land is green and mountainous and looks—from 6,500 feet—uninhabited. As I look down from a Beechcraft Baron that's loaded to the headliner with medicine and food, I see only verdant valleys.
Not since the Berlin Airlift in 1948, when Western Allies flew 4,000 tons of supplies daily into the Soviet-blocked city, has the world seen as much need for airborne relief. A poverty-stricken island with little infrastructure and no building codes, Haiti seems poised on the brink of catastrophe. But general aviation has given people real hope. The Haiti disaster has demonstrated what aviation can do and how it can make a difference.
Making It Happen
At Odyssey Aviation, an FBO at Nassau Airport, Bahamas, pilots in jeans and T-shirts walk purposefully as carts overloaded with boxes labeled "IV fluids" and "exam gloves" are pushed to waiting airplanes, ranging from single-engine Cessnas to King Airs. The flight-planning room has a long queue, and pilots discuss such exotic-sounding locations as Les Cayes, Jacmel and La Gonave. This is base headquarters for the relief effort run by Bahamas Habitat (
www.bahamashabitat.org
).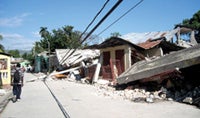 About 70% of the homes in Jacmel, a town known for culture and arts, were destroyed.
The group was established to build homes and provide missionary work to islands in the Bahamas. When the earthquake struck, the group's executive director, Abraham McIntyre, went into action mode—he hasn't stopped since. "We're running Delta Air Lines and FedEx," laughs McIntyre, who isn't yet 30, "and I see no sign of stopping." He's running the show with Cameron King, a 23-year-old long-term intern and multi-engine commercial pilot, and Matt Hansen, another fresh-faced volunteer and experienced pilot. Since the disaster, more than 120 pilots have responded to their calls for help, 400 flights have been flown, and 250,000 pounds of supplies and 250 passengers have been carried to and from seven airports in Haiti. Pilots donate their airplanes and fuel (the FBO offers a discount to relief pilots), and volunteer to fly sorties. McIntyre, King and Hansen have moved into a warehouse hangar, and they put in 16-plus-hour days, coordinating flights and sometimes flying sorties themselves.
Page 1 of 6