Saturday, March 1, 2008
Crewing For Red Bull, Down Under
Race pilots fly an awe-inspiring competition, but they can't do it alone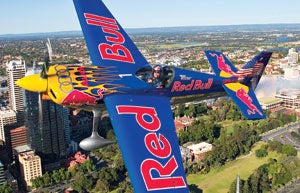 Kirby Chambliss flies his Edge 540 over downtown Perth, Australia, but he relies on crew members for support to compete successfully in the air races.
At the closing ceremonies of each Red Bull Air Race, there's always a jubilant atmosphere. Pilots douse each other in champagne, confetti fills the air, everyone cheers and countless autographs are signed. The racers have worked hard and deserve such a moment. But away from the fanfare, crew members have just as much reason to celebrate. Mechanics, ferry pilots and managers have given their all to help the pilots succeed and have also earned the right to be proud. "Our pilots represent us," says Lance Winter, mechanic for the 2006 series winner, Kirby Chambliss. "If they do well, we have done well."
I joined Kirby's team at the tenth and final race of 2007 in Perth, Australia, where more than 350,000 spectators oohed and aahed as 13 pilots flew highly modified Edge 540s, Extra 300s and an MX2 through a course of inflatable pylons over the picturesque Swan River. My host, Red Bull Flight Communications Manager Maddy Stephens, indicated that a huge behind-the-scenes effort is really what makes each race a success: "Each team requires a high level of expertise from its crew, and it takes more than 300 full-time Red Bull Air Race operations crew to bring it all together." Qualifying day provided a good opportunity to hang out at the hangars and see what goes on away from the limelight.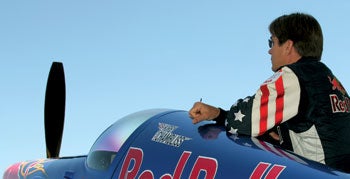 What's He Thinking?
"My crew understands that if they make a mistake, it may cost a life." —Kirby Chambliss
We asked Kirby Chambliss what goes through his mind from before he steps into the plane until he finishes the race.

I come from a competition aerobatics background, where visualizing an unknown sequence on the ground is very important because you don't get to practice it beforehand. It's the same with the race; I try to visualize the track in my mind before I get into the airplane. Once I'm strapped in, I'm thinking about the wind, and I'll read velocity and direction from the lines on the water. Can I pull more on this gate because of a headwind? As I dive into the track, what's the fastest way to get from this gate to that gate? I always try to just barely make it. During finals, I fly completely flat out. I have to because it'll make the difference between first or second. After a race, when I'm sitting up there in the holding pattern, I can usually tell if I've had a good run. But in San Diego, I was sure I had it in the bag. I had barely made everything. When they called out my time versus Paul Bonhomme's, he had knocked me out by a half second. I was really surprised.

I hated my results this year. I was on the podium four times, but none of them were the first spot. During the previous year, I won half of the races and was on the podium for all but one. 2007 was a bummer. Do I blame myself? Sure, my flying could have been better during some of the races. But as the saying goes, it doesn't matter if you're the best jockey out there, if you're on a slow horse, you can keep beating it but it won't go faster. Going forward, we're making some changes to the airplane, but we don't know what everyone else is doing. Only time will tell, and at the first race, we'll find out what was a good change and what wasn't. I have a really good crew, so if we've done all the right things, we're going to be really competitive. We're looking forward to a good season in 2008.

Page 1 of 4