Tuesday, May 8, 2012
Doing Good With General Aviation
Utilize your aeronautical gifts through volunteer organizations that make the world a better place
Requirements:
The Coast Guard requires a minimum of a private pilot rating and 200 hours pilot-in-command time before being considered for the auxiliary. Then a recruit has to be nominated by an active member and pass a criminal background check. This level of security is needed because auxiliary pilots do, at times, fly "sensitive" missions.
Rewards:
The primary benefit to joining the Coast Guard Auxiliary is that you'd be a member of an active and functioning stateside U.S. military unit, with all the camaraderie and zest of completing real missions for Uncle Sam, all without having to complete a boot camp (for someone like myself with 48-year-old knees, that's very appealing). In addition, the Coast Guard will reimburse an aircraft owner for fuel and oil consumed while on duty with an extra "engine stipend" based on the horsepower of your aircraft. For example, a person who volunteers with a 160 hp aircraft will receive an additional $38 per flight hour.
Young Eagles
www.youngeagles.org
Since 1992, EAA members have given more than 1,680,000 young people their first ride in an aircraft and a personalized introduction to the fraternity of aviation. The original goal of Young Eagles was to give one million young people their first fight before the 100th anniversary of the Wright Brothers' first flight. Anyone familiar with the EAA knows that when their membership likes an idea, they get motivated! More than 42,000 pilots participated, and the one million mark was passed with time to spare. That works out to just under one out of every 10 pilots in America have performed Young Eagles flights.
Requirements:
First, you have to be a current EAA member in good standing. Then you're required to have a pilot certificate with 90-day currency and a current flight review appropriate to the aircraft you'll be flying, since Young Eagles receive their flights in everything from balloons to helicopters. After that, you'll have to provide proof of valid passenger liability insurance.
Rewards:
If you believe that children are the future of America and think that kids hooked on aviation while they're young will stay with aviation their whole lives and become focused, driven young adults, there's no better opportunity than the Young Eagles program.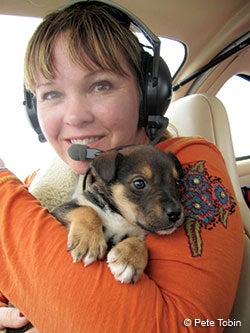 Pilots N Paws
Pilots N Paws
www.pilotsnpaws.org
Pilots N Paws (PNP) was created out of necessity. In the fall of 2007, Debi Boies' heart was finally healing enough to adopt a rescue doberman after the painful loss of her 12-year-old doberman to cancer. Boies lives in South Carolina. Her new four-legged companion lived in Florida. A compassionate pilot named Jon Wehrenberg stepped in to transport her rescue dog to her by air. That was the first Pilots N Paws flight. Although there are several fantastic volunteer organizations already performing animal transportation, most were land based. The "passenger" was transferred from car to car all the way across the country, which is quite hard on the animal. Although not a pilot herself, Boies jumped into the aviation community and was rewarded with animal lovers at every turn.
That was a half a decade ago. Now, through the help of corporate sponsors (Subaru of America, Inc. and Petmate Products), Pilots N Paws has grown to over 2,600 pilots volunteering their time and aircraft and over 11,000 animal lovers utilizing the network to keep informed of animals in need all across the country. PNP has moved beyond transfering animals from "kill shelters" to "no-kill" shelters or rescues. Pilots N Paws now provides canine medical flights. PNP volunteers have also taken on the task of transporting former military dogs that returning soldiers have adopted. After the oil spill in the gulf, 51 PNP pilots flew 171 dogs out of danger.
Boies sees the role of PNP as more than just a network for pilots, shelters and animal lovers to connect in order to provide safe transportation. She also sees PNP as an opportunity to educate the public that euthanasia isn't the only answer for animals in shelters.
There are two pilots of note: Aviator Jeff Bennett is approaching 1,000 animals rescued, and he's not even the record holder. Aviator Scott Messinger has already broken the 1,000-animals-rescued mark. My personal record is 18. I fit 18 puppies into my Columbia 350 for one mission. Two of my personal dogs are Pilot N Paws rescues delivered to me by other PNP members.
Page 3 of 4
Labels:
Aviation Resources
,
Careers
,
Cross-Country Travel
,
Features
,
Journeys
,
Outreach Programs
,
Overcoming Adversity
,
People and Places
,
Aviation Personalities
,
Aircraft Ownership
,
Adventure Flying