Tuesday, February 26, 2013
Islands In The Slipstream
Is this the best-kept half-hour getaway flight secret in the U.S.?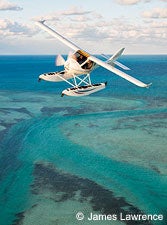 The CT cranks and banks near Bimini.
After a thorough pilot's briefing by Leonard Stuart, Aviation Manager for Bahamas Ministry of Tourism who works closely with Mike Z, everyone scrambled around making final preparations.
Mike Z, who had been a very busy boy running his dealership booth, flying a Breezer formation of four aircraft for the evening air shows and coordinating the flyout, grew frazzled at midday: Some pilots hadn't shown up at the briefing and were scratched. A couple others inexplicably failed to post their required e-APIS Flight Manifest online, and now it was too late. Our initial group of 13 aircraft shrank to nine.
A contributing factor was likely the ominous, blustery gloom of an approaching storm front. But Mike Z had an ace up his sleeve: sailing friend Chris Parker, a crackerjack marine-weather forecaster.
Depending on who you talked to, the weather was: "Just fine, mon!" (from a native Bahamanian); "Not flyable for two days," (from an American LSA pilot/dealer) or, "No problem," (from Chris Parker, who predicted overcast-but-good flying weather on all four days.) Chris Parker turned out to be dead right.
So it was that 18 pilots, spousal units, relatives and friends/colleagues lined up at air show center for the big loudspeaker announcement at 2 p.m. But a light drizzle deterred any public from attending: so much for the big send-off.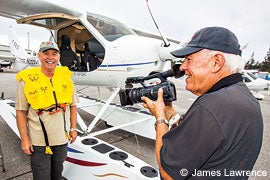 Dan Johnson gets the up-close and personal treatment by Mort Crim, former ABC journalist, who's making a documentary of the trip.
This flyout, directly from Sebring to Grand Bahama's 11,500-foot airport runway, was the third annual chapter of the post-Sebring event. Mike Z was ably supported throughout by Jacob Peed's Aviators Hot Line publication, which helped with sponsoring, disseminating important flying and lodging information to pilots, and securing much-welcome discounts from hotels on Grand Bahama and Bimini.
And off we all went. Departure fortunately was uneventful, the threatening weather was spot-on as Parker said it would be, and within an hour and a half, we were all down safely at Grand Bahama International.
In The Islands, Mon!
After unloading and carting our bags to customs, Leonard Stuart introduced us to members of Bahamas Tourism and their lovely reception with refreshments.
We drove a short way to the Grand Lucayan hotel, a vaulting and well-appointed destination with many welcome amenities, including quality restaurants, a cigar bar for the pilots to brandish their best Schwarzenegger brio and a resplendent serpentine pool—600 feet long, with water the same temperature as the nearby ocean (with a private beach, to boot).
Page 2 of 5