Tuesday, December 16, 2008
Johnson Creek: Backcountry Fly-In Mecca
Once a year, this remote Idaho strip becomes Super Cub central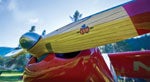 With its 7 to 8 gph fuel burn and legendary short-field capability, the Super Cub is an ideal backcountry airplane. It hasn't been manufactured since 1964, so some owners restore them to better-than-new condition.
Taliaferro says, "Johnson Creek is one of our favorite backcountry strips. The grass runway is manicured to perfection—it's a wide and easy runway and a beautiful place for aviators." Most pilots use Johnson Creek as a base camp to launch day trips into more remote mountain strips like Moose Creek for fishing, hiking or just to challenge themselves.
"There's a little bit of ego with Super Cub pilots," laughs Kirsten. "They like to get their airplanes where others can't." Most of the Super Cubs at Johnson Creek have some kind of modification. "Pilots are running 180-plus horsepower engines or extremely light airframes," says Kirsten. Popular enhancements include bush tires, vortex generators, replacing normal batteries with dry cells and lightening airframes by getting rid of vacuum systems, starters and alternators. Some owners make thrust-line modifications to the engine mounts or add cross bracing through the cabin.
Though the Super Cub fly-in attracts backcountry purists, ultimately, the event is about the camaraderie of this select group of pilots. "It's a friendly, family-type fly-in," relates Taliaferro. "It's just about having a blast flying what's basically a pickup with wings—the Super Cub."
The area around Johnson Creek boasts beautiful river gorges and rugged canyons that challenge a pilot's skills. Pilots venture beyond Johnson Creek for day trips to Yellow Pine, Sulfur Creek, Moose Creek, the Salmon River and other remote spots.
Page 2 of 2