Tuesday, April 10, 2012
Let's Go To Jamaica, Mon!
The TBMOPA demonstrates the real value of type clubs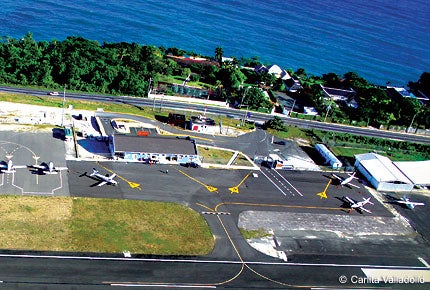 Eight TBMs sit on the ramp at Ian Fleming International, named after the James Bond author who called Jamaica home. The airport was officially opened for international arrivals in 2010.  The first pilot to land there was none other than songster Jimmy Buffet.
When more than 500 of the same type of airplane are sold, it stands to reason that some of these aircraft owners are going to meet and get to know one another. There's even an excellent chance these people will eventually have meals together, share drinks together, maybe a round of golf, and ultimately even fly places for no other reason than to have fun together. Such was the case with the Socata TBM Owners and Pilots Association (TBMOPA) on their recent trip to Jamaica.
"We have 10 aircraft over Cuba right now," said Air Journey president Thierry Pouille, who was tracking the gaggle of aircraft on his iPad. His company arranges trips allowing pilots to fly their own airplanes on aviation adventures all over the world. "They should start arriving in about 15 minutes." The approach into runway 9 requires some skimming over a hilltop, and then full flaps and nose down for a slam-dunk arrival to hit the numbers.
And, like clockwork, the flight of $3 million+ French-made, single-engine turboprops entered an extended base leg before turning final on runway 9 at Jamaica's shiny new Ian Fleming International Airport, named after the British writer who created the
James Bond
series. The airport had recently undergone a massive makeover in transition from a simple local Jamaican aerodrome to an international destination airport.
"Pilots enjoy coming here as opposed to the busier airports like Kingston and Montego Bay," said airport manager Claude Service. The airport is designed to make Jamaica arrivals a cinch. "Fuel, customs—it's all right here. When people find out about Ian Fleming, they want to try us out," Service continued. Songster and tropical troubadour Jimmy Buffet landed on the new runway before the paint was dry.
Former Cessna sovereign Jack Pelton and his wife Rose stepped down the air stairs after their very first TBM experience. "This is an amazing airplane," he said with a big smile.
The TBMOPA group, flying both original TBM 700s and the newer 850, departed southeast Florida and spent slightly more than two hours en route, turning in typical groundspeeds right at 300 KTAS. If that seems like a whole lot of knots, it should; the Pratt & Whitney-powered TBM is the fastest of all the single-engine turboprops.
"The TBM is all about speed," says owner and pilot Butch Stevens. He migrated from a career in NASCAR to flying the big turbine more than a dozen years ago. As he had done in his previous life, Stevens immediately set out to get more speed out of his airplane. He removed the radar pod (gained nine knots), and had his engine race-car-tuned on a dynamometer. His TBM 700 is now as fast, if not faster, than a new TBM 850, despite the latter having a 150 horsepower advantage.
Page 1 of 5