Tuesday, June 22, 2010
Mustang Mystique
With a new musical score by James Horner, the Horsemen P-51 team rides anew
Oscar winner James Horner scores Horsemen music. Video by ASB.TV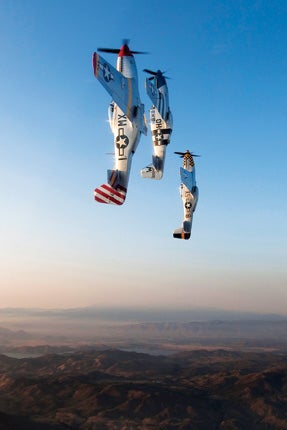 As I lower myself into the rear cockpit, I pinch myself. No, I'm not dreaming. I really am in a WWII P-51D Mustang, about to ride with the Horsemen, the world's only P-51 aerobatic team, known for their hyperprecise formation aerobatics.
There isn't so much as a nick in the zinc chromate green that covers the interior. This particular Mustang,
February
, has been meticulously restored and belies the fact that it was built during the height of the war. I wonder about the pilots who have sat in this cockpit and the stories this warbird could tell. Dan Friedkin, who flies right wing on the team and is my pilot today, helps with the gauntlet of straps, clips and latches that will connect me to this aircraft for the next hour.
The Horsemen—their name derived from the Metallica song, not the biblical reference—are a different air show act. Whereas many performers take pride in mind-blowing tumbles and hardcore figures, the Horsemen prefer to showcase the unadorned beauty of flight. But such a simple description is like saying Beethoven played nice piano.
The team employs a powerful formula that elicits total silence and awe from its audiences. The combination of the iconic mystique of the P-51, the growl of three Merlin engines, the thrilling precision of a tight formation, and the elegant grace of giant, soaring maneuvers creates something moving: an homage to those who fought in this grand machine and a fitting tribute to the sensual feeling of flight. And they've added a new element: their own soundtrack.
Ed Shipley, who flies in the left-wing position on the team, had worked with Oscar®-winning composer James Horner on a previous aviation project, and the two became fast friends. You might recognize Horner's name from the musical score credits of Avatar, now the highest-grossing film in history. He joined the team on practice flights, where the idea of flying the routine to a custom soundtrack was born. Using an 88-piece orchestra, Horner wrote a full score for the Horsemen's aerial dance, and watching the team's performance accompanied by the thunderous sound of Horner's lush, sweeping music is an authentically emotional experience.
"We have a music feed in our cockpits," says Shipley, who flies left wing in the formation, "and we listen to it during our routine." Following the team's performance at the Chino, Calif., air show, I notice more than a few people wiping tears from their faces.
Page 1 of 3
Labels:
Features
,
Flight Training
,
Flying Skills
,
People and Places
,
Pilot Skills
,
Shows and Fly-Ins
,
Warbirds
,
Aerobatics
,
Air Shows
,
Aviation Personalities
,
Adventure Flying