Tuesday, June 22, 2010
Mustang Mystique
With a new musical score by James Horner, the Horsemen P-51 team rides anew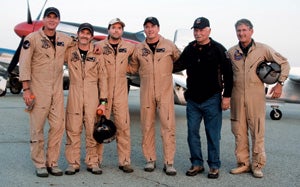 LEFT TO RIGHT: Ed Shipley (left-wing position in Double Trouble Two), James Horner ("the fourth Horseman"), Jim Beasley (lead position in February), Dan Friedkin (right-wing position in Princess Elizabeth), Tom Friedkin and Steve Hinton.
Saddling Up
From the Mustang's rear seat, I'm watching the big, four-blade propeller start its ponderous rotation. The aircraft's nose sits high in the air, giving the airplane an insouciant, Mick Jagger-like stance. With a cloud of white exhaust, the Merlin does its magic, and we taxi to the runway for a formation takeoff.
Friedkin pushes the throttle forward, and I feel the nearly 1,500 horses tugging on this aluminum machine, pulling it into the air rather quickly. With a loud and healthy clunk, the gear comes up, and we're headed for Lake Mathews to run through an aerobatic sequence for our photo flight. Earlier I had noticed Shipley writing his blood type on his forearm in big, black Sharpie letters. "What if I hit the ground?" had been his matter-of-fact reply to our curiosity. It's a coarse reminder that as fun as this looks, it's no game.
There's nothing anywhere that can prepare you for looking out a canopy from within a Mustang formation. Instantly it's 1943, and I'm at a forward air base in England flying bomber escort. The ghosts in these machines are making their appearances, and the thought strikes me that I never want this to end.
We move as one through all manner of luxurious, graceful loops and barrel rolls. A fourth Mustang piloted by well-known warbird pilot Steve Hinton and carrying
P&P
Editor Jessica Ambats maneuvers around our formation to capture different photo angles. Later, we head toward the setting sun, with Hinton repeating roll after roll around us. All too soon, the darkening sky sends us home.
"There are just no words to describe what this feels like," Shipley tells me. But with the addition of James Horner's moving score, audiences are going to get a lot closer to it.
James Horner: The Fourth Horseman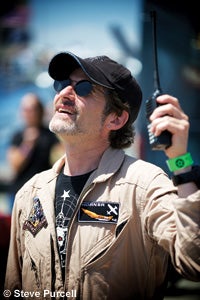 It would be fair to call composer James Horner one of the most successful in the history of film. In addition to three Grammy Awards and two Golden Globes, Horner has been nominated for an Academy Award 10 times and won twice (Best Original Song and Best Original Score for Titanic). He has also scored nearly every motion picture you probably own, including Field of Dreams, Apollo 13, Aliens, Braveheart and, of course, the current blockbuster Avatar. In all, he has scored more than 100 films and a plethora of television shows. But best of all, he's passionate about aviation. "Early on, I had to choose music or aviation," says the soft-spoken composer.

"I chose music, but I always stayed close to flying." After attending the Royal College of Music in England, Horner returned to the U.S. to earn advanced degrees from USC and UCLA. He earned his private pilot certificate at 17. It was while writing a score for a previous aviation project that Horner met Ed Shipley. Horner took up flying again and was invited on Horsemen practice flights. "I tried to feel the emotion in every maneuver," he recalls. "I was given the freedom to write from my heart, so I wrote what I felt flying with them." According to Shipley, Horner also became a driving force for the team. "He critiqued our positioning and the flow from maneuver to maneuver during the routine."

After many flights over nearly two months, Horner composed a moving, 121⁄2-minute score that transforms musically from quiet anticipation to unbridled release, with fitting nuances in between. The piece was recorded in Los Angeles with the same 88-piece orchestra he used on Avatar. At the Horsemen performances, crews bring in a special sound system dedicated only to the Horsemen routine. The effect is that of a rock concert, only with strings, woodwinds, percussion and even electronic sounds mixed in.

The connection between Horner and the Horsemen is so deep that he's considering flying as part of the team. Shipley says the team is open to the idea. For his part, Horner is flying several hours a week and also is doing aerobatics training to improve his burgeoning skills. For now, he's content to fly in the back of the Mustang, giving audiences the perfect gift: beautiful music married to some of the most inspiring flying imaginable.

For more, visit www.asb.tv/jameshorner.

asb.tv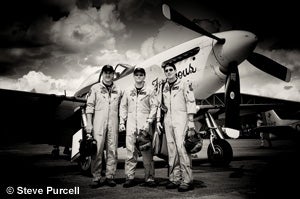 Visit the asb.tv website to watch episodes of the adventures of the Horsemen in their reality show, The Horsemen Cometh.



Page 3 of 3
Labels:
Features
,
Flight Training
,
Flying Skills
,
People and Places
,
Pilot Skills
,
Shows and Fly-Ins
,
Warbirds
,
Aerobatics
,
Air Shows
,
Aviation Personalities
,
Adventure Flying