Tuesday, December 16, 2008
Plane Living
Finding a residential airpark that's right for you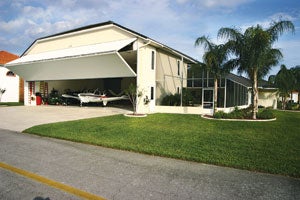 Spruce Creek Fly-In in Port Orange, Fla., is America's largest residential airpark.
Expert Opinion
Talk to residents and get their insights about the community, lifestyle and the positives and negatives of the development. Consult city- or county-planning or zoning officials about the property as well. And use a real-estate agent or attorney familiar with residential airparks to help review and negotiate your property purchase.

Know Before You Go
Obtain all relevant aeronautical information before making a personal visit. Many residential airpark runways can be challenging for pilots used to typical municipal airports. Some may be at high elevations, have relatively short runways or have aircraft without radios in the pattern. Some airparks even recommend getting training from a pilot familiar with the field before flying in.


The Search
With the preceding caveats in mind, you're ready to start the fun part—reviewing choices and imagining yourself living alongside your airplane. Quick access to your airplane is just one of the attractions of today's residential airparks. Heaven's Landing, for example, in northern Georgia, has a community clubhouse, racquetball and tennis courts (plus an on-site sauna and Jacuzzi), and is surrounded by a national forest, which provides more recreational opportunities.

"We have a great lifestyle," said developer Mike Ciochetti, ticking off available activities. "White-water rafting, power boating, trout fishing, hunting, golfing, cycling and motorcycling, and we're three miles from the county seat."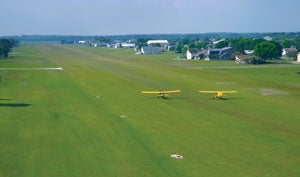 Leeward Air Ranch in Ocala, Fla., attracts warbird and vintage aircraft fans.
Mountain Air Country Club in Burnsville, N.C., featuring the highest runway east of the Mississippi (4,400 feet), set the tone for upscale airparks with complete outdoor activities when it was founded in 1990. Nestled in the Blue Ridge Mountains, homes in this upscale community range from $500,000 to $3 million.
"New homes are still going up," said Mountain Air President Randy Banks, whose father and uncle established the airpark. "We're still in the expansion and development mode."
Several new developments, including Big South Fork Airpark in Tennessee, offer equestrian centers as well as aviation facilities. "'Active outdoor' would be the way I describe [the typical buyer/resident]," said developer Bill Armstrong. "Folks who choose this are into planes and equestrian things. They're not coming up to go shopping at Macy's."
Perfect Landing Airpark also features an equestrian center, though its setting on Bull Shoals Lake also provides access to water sports. Currently under development, Perfect Landing will also have a biometric security system and 24-hour concierge services. "It's a very upscale development," said Shubb, the marketing director.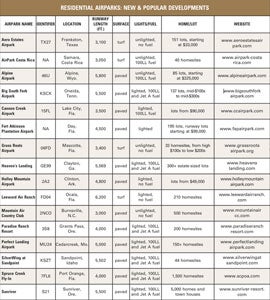 For a larger view,
click on the image above.
A few residential airparks have "through the fence" access arrangements with adjacent municipal airports. This relieves residents of concerns about the preservation and maintenance of the runway. Silverwing at Sandpoint in Sandpoint, Idaho, is the newest of such developments.
"This is going to be an aviator's dream," said John McKeown, one of the owners. "It's 10 minutes to one of the best ski resorts in the Pacific Northwest, there are backcountry strips everywhere, there's hunting and fishing, and Sandpoint is one of best small towns in America."
The aviation lifestyle has even spread internationally. Airpark Costa Rica on Costa Rica's Pacific coast offers beautiful beaches, fishing, scuba diving, golf and the country's famed jungles and national parks.
"It's a small community for people who like flying and nature," said Pieter Monsma, the airpark's president, who happens to be from Holland. Monsma bought the property a couple of years ago but didn't know what to do with it until he saw an episode of CSI on TV. "The police guys came into the house to arrest a woman and she taxied out of the garage in her airplane and took off. Before that, I never saw that that was possible," Monsma said. "Now, we're ready to rock 'n' roll."
Page 2 of 2