Tuesday, September 7, 2010
Rookies of Reno
So you want to race around the pylons? Here's a look at what it takes.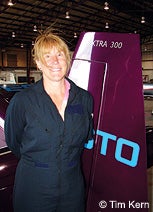 Vicky Benzing with her Extra 300.
California chemist Vicky Benzing was flying her own purple Extra 300. The aerobatic performer, who's also an airport mate of Sport Class president Lee Behel, notes, "In acro, where points are deducted for figures flown out of the box, speed actually hurts you, except in the vertical maneuvers. Acro is demanding from a G standpoint, but here at Reno it's about planning turns, holding a line, smoothness and as little G as possible. The sight picture is different too, as you're moving along, always in a bank. And unless you're in an aerobatic team, you never fly that close to other airplanes."
Benzing didn't have preconceptions about what to expect, but "intense" is a good description of her first training session: "I've got Race Control talking; there are other planes around me. I'm going 200 miles an hour and I'm 60 feet off the ground." With familiarity, things improved. "Later, I could tune out all the noise. Then, Lee took me around the course in his plane. It's about 100 miles an hour faster than mine. Now, my plane feels so slow. He spoiled me."
Le Moteur Diesel
The sleeper entry this year may be Team
Big Frog
, with aerobatic competitor Willy Gruhier ("Frog 1," who at age 14 did his first solo in a Pitts S-2A) and Christophe Delbos ("Frog 2," who usually flies a Mirage 2000). They will fly a new NXT, built in France and powered by a French-designed and -built SMA diesel engine.
Delbos thinks the SMA may be the engine of tomorrow: "Economically and politically, diesel is better than gas. Fuel is available; the concept is reliable; there's no external ignition; it's greener—and now, it has less vibration, less noise and good power." But will it make 600 horses? "Not this year," Gruhier notes. "The aero-diesel is just beginning. We have a lot of potential."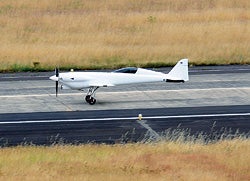 The NXT Big Frog is test-flown in France.
Team
Big Frog
was trained in tight formation flying through Delbos' contacts in the French Air Force. In fact, they have some use of a military practice area, including a mockup of the Reno course; and since it's on a military base, they can make the low-level practice very realistic. The team has solid sponsors, including CATIA/Dassault, which helped design the engine mount.
The
Big Frog
NXT's airframe is lightly redesigned to make it container-transportable. And they've created a special transport trailer that's exactly the width and length of a standard 40-foot container. It holds the whole NXT, plus its own suspension, tongue and wheels: Just unload it, open it up, attach the included pieces, and it's an over-the-road aircraft transport.
Their
avion
was first flown in France in July by
Relentless
owner and Reno racer Kevin Eldredge; then it was disassembled, containerized and air-freighted to the U.S. West Coast. It will be trailered to Eldredge's home field for Delbos and Gruhier to fly; after that, if all goes well—always a question with an all-new machine—it's over the mountains to Reno.
The Reno Air Races will take place on September 15-19, 2010. Visit
www.airrace.org
.
Page 3 of 3