Wednesday, March 1, 2006
See Italy By Seaplane
Talk about fantasies on floats…
"You can have 20,000 hours in a 747, but you haven't learned to think about what happens when you turn the engine off on a float plane and start drifting toward the shore," Baj points out. "Where are you going to end up? If you don't have a lot of experience with seaplanes, it might not end up the way you imagine." He says even high-time float pilots can get complacent and become accidents waiting to happen. "Data from studies in the United States show that safety begins to occur after a pilot has accumulated about 500 hours or more of seaplane time," continues Baj.
"When I'm doing an aircraft check-out, I watch the pilot's eyes. If he keeps his eyes in the cockpit very long, I know he's not a seaplane pilot!" Baj says matter-of-factly.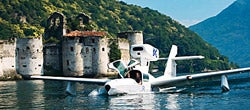 For those who prefer to be accompanied by an experienced local pilot on sightseeing flights, "safety pilots" are available at no charge.
But if sightseeing across southern Europe is high on your list, one shortcut is to take along a "safety pilot." Aero Club Como will loan you an experienced pilot with plenty of local knowledge, at no charge. "Recently an attorney from Los Angeles came here and took one of our planes and a safety pilot to do business in Tuscany and Venice. I'm sure it was a business trip he'll always remember!" Baj laughs.
Aero Club Como also organizes supervised group trips to locations throughout Italy. There's never a shortage of participants. On the summer solstice, the club hosts an annual celebration. All of the club's planes fly until the last bit of sunshine disappears behind the mountains, usually well past 10 p.m. Hundreds of people come to enjoy the sights, the flying, lots of food and live music.
But most of the visitors to Aero Club Como are interested in flying—learning to fly floats for the first time or learning to fly them even better. And customers who get the bug for seaplanes return to the club year after year. Standing in front of the club's hangar, one often witnesses what looks like a family reunion, as customers return and see friends with a similar passion. "It's like a family," Baj says, "and flying is our family tradition." He smiles as yet another seaplane taxis across the road and slides into the water. All of us here think that we're truly lucky to see Europe from, shall we say, such a unique perspective!"
For more information on Aero Club Como, visit
www.aeroclubcomo.com
, or call +39 (031) 576695.
Page 3 of 3