Tuesday, February 26, 2013
Swap-A-Plane!
If flying yourself in an exotic, far-off land seems unaffordable, perhaps an airplane exchange could make that dream happen.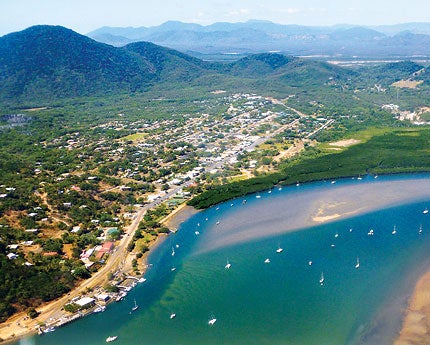 View of tropical Cooktown shortly after takeoff; named after Captain Cook, who beached the HMS Endeavor there in 1770 after it was nearly destroyed on the Great Barrier Reef. Cooktown is the jumping-off spot for the famous Daintree Rainforest.
People exchange all kinds of things on the Web. You can swap your house, timeshare, antiques and collectibles. So why not swap airplanes? As owner of a 1969 Piper Arrow, my fixed costs (tie-down, insurance, annual, etc.) remain roughly constant whether I fly 100 or 200 hours a year, so why not leverage that potential into an international flying adventure?
The germ of this idea was sown while browsing exhibits with my wife at the AOPA Summit a couple of years back. Sue and I were enchanted by the booths promoting guided aerial tours of exotic, far-off lands.
However, a couple of weeks in a 172 flying around Southern Africa, for example, was upward of $20,000 for the two of us, without even factoring in international airfares. For some, guided tours are a great hassle-free solution to fly in a foreign country, but for us, the cost placed it squarely in the realm of a happy lottery outcome.
Still, the encounter awakened a longstanding dream of circumnavigating Australia by air. Although firmly planted in Los Angeles, I've spent 10 years on that island continent since first pitching up as a teenaged backpacker and have never gotten the outback out of my system.
Flying in Australia is notoriously expensive—an Arrow typically rents for about $300 an hour. As a result, the cost of circumnavigating Australia would approach that of a guided African aerial safari once you throw in the ubiquitous landing and navigation charges. While the thought of combining our dual loves of flying and the Oz landscape seemed irresistible, our budget proved an effective resistor until the idea of a plane swap hit.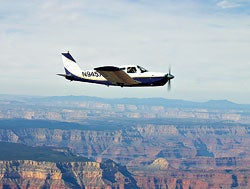 The writer's Australian counterparts enjoyed criss-crossing the Grand Canyon in Five Seven November enroute to Sedona.
Arranging The Swap
Figuring out how to execute a trans-Pacific airplane exchange didn't come instantly. While you might see giving your house keys to a stranger as a big step, most homes have a familiar layout and don't require, for example, federal certification and operating permits. How would one deal with the vast differences in aircraft type and required experience? For example, my insurance policy's open pilot coverage is restricted to those with at least 750 hours, including 150 hours retract and 25 hours make and model. So, while an ad for a generic airplane swap posted on Craigslist is unlikely to be fruitful, a direct approach to the Aussie owners of my make and model aircraft just might.
The Australian Civilian Aviation Safety Authority (CASA)—the Aussie FAA—supports an open-access database of aircraft owners that can be sorted by aircraft type and ultimately led me to the 38 PA28R-200 owners on that continent. Since all I had were mailing addresses, I worked up a letter that I sent to the 33 owners who weren't obviously aircraft rental agencies.
It began: "I write as a U.S.-based, fellow Piper Arrow owner exploring the possibility of an aircraft exchange. My wife and I share a longstanding dream to see Australia from the air—below the jet routes—and it occurs to us that you might harbor a similar wish to see the western U.S.
Page 1 of 5