Tuesday, February 26, 2013
Swap-A-Plane!
If flying yourself in an exotic, far-off land seems unaffordable, perhaps an airplane exchange could make that dream happen.
So, in much the same way that homes are mutually exchanged on the Web for essentially cost-free international vacations, I'm proposing an aircraft swap." Then I provided a brief bio to introduce myself, including flight experience and details of Five Seven November: "a low- time (320 SMOH, 3200 TT), well-equipped (Garmin 430W, GTX330, 340; S-TEC 30 A/P with GPSS; JPI 700) Piper Arrow II." (Later, I learned the string of avionics was somewhat obscure to your average outback pilot.)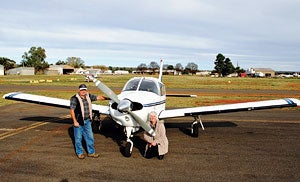 Wayne and Faye Burrows, posing with VH-MWH in Shepparton, wondering if the Yank will return their airplane.
Swapping planes with fellow owners of well-maintained Arrows seemed a bombproof idea as: 1)They're experienced pilots in my make and model; 2)They either do, or eventually will, meet my "open pilot" clause; 3)They've demonstrated a commitment to keeping their planes airworthy, and 4)They ultimately have an incentive to treat my airplane as if it were their own.
The first reply came from a recently- retired chap in north central Victoria. During a business trip to Australia last year, I drove up from Melbourne with our pilot son Matt to meet Wayne and Faye Burrows, who put on a classic Sunday roast lunch with all the trimmings.
Afterward, we got a tour of their Arrow II—VH-MWH—and an agreement that we'd start with baby steps to build mutual trust; Sue and I would begin by flying MWH to the neighboring state of South Australia for a wine tour. And so they offered us the plane for a long weekend at the cost of a good bottle of Barossa Valley red.
The next fellow to respond was a 20,000-plus-hour owner of a crop-dusting/aerial fire suppression service in Northern Queensland who holds an FAA certificate (to fly U.S. registered fire suppression aircraft that migrate to Australia during the northern winter).
Don described his Arrow II as a "work- hack" used to shift ground crew to work sites, although he noted that it was in the process of being repainted. Although having no immediate intention to visit the U.S., he agreed that we could borrow the plane in the off season for a week or so if he "liked the way I fly" and we offered him reciprocal privileges down the road. Imagine a flight down the length of the Great Barrier Reef!
The Paperwork
While in Australia early last year, I cobbled together the two applications I'd need to submit to be legal to fly: one for a security clearance and the other for pilot's privileges. I knew I was in for a double dose of Aussie-style bureaucracy when I found that both forms required an Aviation Reference Number—that is, I needed to apply for a number in order to apply for more numbers.
Page 2 of 5